How to Become Your Own Property Manager (even if you're remote)
Property management is a tough job and managers handle a wide variety of responsibilities, such as tenant communication, rent collection, and vendor relationships. It also requires someone to be on-call for emergencies and someone to be onsite for turnovers, showings, and inspections.
And yes, you can be your own property manager.
If you're considering bringing the management in-house, the good news is that you're not alone. Independent landlords own more than half of the country's rental properties, and a large percentage of those rentals are self managed.
Here is a list of things to consider and action if you want to perform your own property management:
Assess true cost savings
Educate yourself with the right resources
Create a transition plan
Put the right team in place, including software and services
1. Assess the True Cost Savings of Self Management
When you bring management in-house, it's far too easy to overestimate income and underestimate expenses. The largest expense that you'll forget to factor into the equation is your time. Make sure that is estimated as a property management line item.
If you've had a W-2 or hourly job, you can easily estimate your hourly cost and multiply it by the expected time to do the property management. Remember to adhere to the rule of thirds when creating a budget (i.e., mortgage payments should be roughly ⅓ of annual gross income).
Pro tip: For a more detailed breakdown of how to estimate time spent on property management, check out our article on how to become a remote property manager here.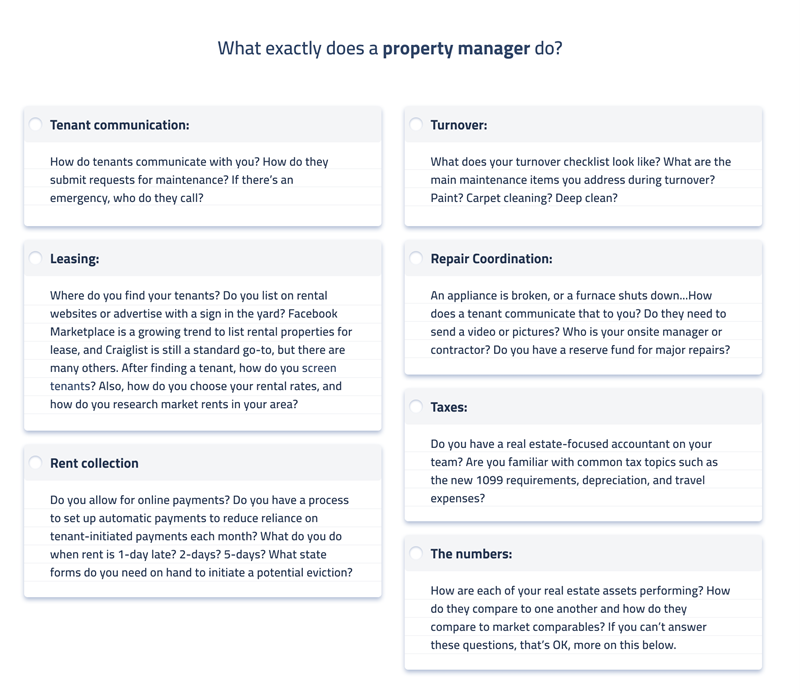 2. Educate Yourself and Know What Resources are Available
Tenant-Landlord Law
Tenant-landlord law differs from state to state, so make sure you research the specific laws in the state where you own property. The most important thing to keep in mind is to always give your tenants proper notice for everything that happens to the property.
Advance notice can apply to things such as move out inspections that affect a security deposit refund. Landlords must notify tenants what repairs need to be done to the property after the completion of a lease. This way, the tenant is aware of what may be deducted from their security deposit and provides enough time for them to make these repairs on their own if they choose to do so.
In short, make sure you are fully aware of everything that you need to notify your tenants of and how far in advance you need to notify them.
Fair Housing
Many landlords unintentionally violate the Fair Housing Act when finding and selecting tenants, as well as during tenancy. The Fair Housing Act was enacted to prevent discrimination based on race, color, origin, religion, sex (including gender identity and sexual orientation), familial status, and disability. Discrimination against people with disabilities is the most common violation of the Fair Housing Act.
As an owner, it is important to have documentation regarding tenant vetting procedures that demonstrates consistency and compliance with the Fair Housing Act. Additionally, it is also important to give every tenant the same level of service and to handle disputes promptly.
Full Rental Lifecycle
A landlord should be fully aware of each of the three stages in the rental lifecycle when getting education and compiling resources.
Vacancy:
Ensure that your property is up to date with all of the building codes and regulations
Make sure all utilities are functioning properly
Maintain common areas and landscaping
Listing:
Stage and photograph the property

(Pro tip: professional photos are a larger up front investment, however go a long way in helping your property stand out, and you can reuse these photos on an ongoing basis as long as no significant changes are made to the property)

Research market rent and list your property

Make sure your listing has clear info about how to apply and how to contact you
Use language that does not violate Fair Housing

For example, did you know that writing "family-friendly" is a Fair Housing violation?
Occupancy:
Identify a qualified tenant
Use a strong and state- (or city-) specific lease
Collect rent in a way that doesn't put you at risk of clawbacks or disputes
Establish a line of communication for routine inspections as well as maintenance issues

Make sure to give advance notice (24 hours in most places) before coming to the property for an inspection

At the end of a lease/ start of a new lease, make sure rental increases are within legal limits
3. Develop a Transition Plan
Now that you've calculated the true cost savings, and set up the necessary resources to educate you on best management practices, now it's time for you to get insurance and set up your entity.
Set Up An Entity Structure
Landlord Insurance Limitations-
What does landlord insurance cover?

Property Damage
Lost Rental Income/Rental Default Insurance

Temporary rent compensation in the event that your property suddenly becomes uninhabitable

Some Liability Protection
Other optional coverage such as burglary

What does landlord insurance not cover?

Equipment and appliance malfunctions
Shared property
Tenant belongings

In addition to purchasing landlord insurance, every landlord should consider setting up an entity structure to further protect themselves
One LLC-
Pros
Relatively straightforward to set up
Limits personal liability
Tax benefits
Easy to transfer assets
Cons
Transfer taxes (in some states)
Series LLC-
Pros
Reduces liability: If one series gets sued, the other series are not liable
Beneficial if you own multiple properties
Tax benefits: All series within your LLC can be filed on the same tax return
Cons
Not available in every state
Trust-
There are many different types of trusts, make sure you research which one would serve you and your family the best.
Pros
Beneficiaries of your properties do not need to go through probate
Probate is the lengthy legal process used to validate a will
Assets in an irrevocable trust are not subject to estate taxes
Can establish a trustee to help manage your assets
Cons
Expensive
Time consuming
Complicated when you move assets in and out of the trust
Would you like us to create a table visual like the below based on the above?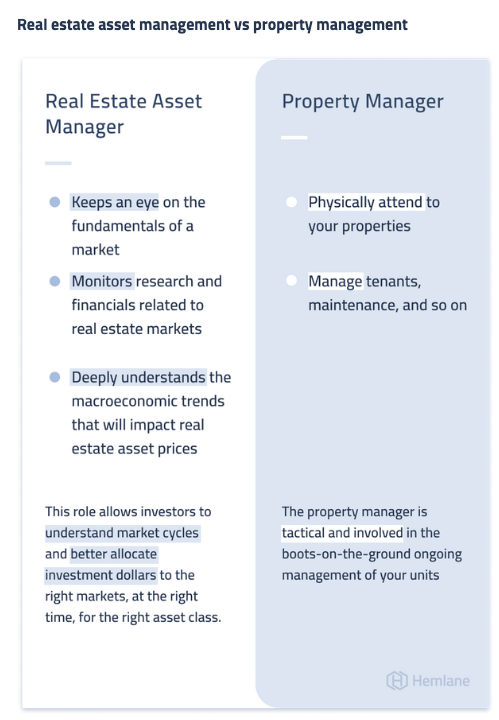 4. Establish Your Team
When assembling your team, it is important to network as much as possible. A good real estate team should include real estate agents, home inspectors and appraisers, handymen and contractors, lenders and escrow officers, and even fellow real estate investors.
Build a 24/7 Emergency Repair Team - You will need someone to be available to pick up the phone, troubleshoot, and dispatch on 24/7 for emergency repairs. Companies like Hemlane provide all of these services for a fraction of the cost, and ensure you have full transparency and maintain executive decision-making.
Hire a Team - You won't want to do everything yourself, as you may be on vacation or need a more experienced handyman. Build up your network of third party professionals that you can call to perform specific tasks. For example, a licensed leasing agent to help place a tenant. Or leverage services like Hemlane, where they provide leasing and turnover services, in addition to third party networks.
Define and Assign Responsibilities - Make sure you have folks to cover everything you need, from finding and placing a tenant to ensuring rent is collected.
5. Final Points
An important thing to remember well in advance of deciding to bring property management in-house is to check your property management contract to ensure you give the adequate legal notice to change management to yourself. It also goes a long way to speak with the property manager to explain why you are making the choice - good communication shows respect and speaks volumes!
You will also want to give existing tenants adequate notice, especially if you are switching to a new way of collecting rent. Feel free to use our a Change in Management form as an example.
Conclusion
Always keep in mind that being a property manager is a business. Make sure you really understand the commitment that it takes to successfully manage a property. Before getting started, it is critical to do your research and weigh the pros and cons. When investors get complacent with due diligence, best practices, and ongoing education, they tend to get into trouble more often. Surround yourself with people who have skills and strengths that you don't, enforce the terms and conditions of the lease with your tenant. As long as you stay diligent and aware, you will be on your way to being a successful property manager.
Finding and Selecting the Best Tenant
For a $2,000 monthly rental: 1. You lose $1,000 if you have your rental on the market for 15 additional days. 2. You lose $1,000+ for evictions. Learn how to quickly find and select a qualified tenant while following the law.