How Real Estate Asset Managers Can Get a Leg Up On Property Management
It is the long-debated open question those with real estate assets often ask themselves: Should we outsource or do our own property management? Often, managers and investors will self-manage their first few properties, then as they grow they need to make a deliberate decision to become strictly asset managers and outsource property management, or become property managers as well.
Outsourcing property management can be expensive, but keeping it in-house can be time-consuming and operationally complex. The good news is that with the help of technology tools, keeping property management in-house has never been easier.
There are benefits to both models. Today we are going to look at how real estate asset managers can get a leg up on property management. Whether you operate as a real estate asset manager, private family office, real estate analyst, or developer, understanding the benefits of bringing in-house property management is critical.
Real estate asset management vs property management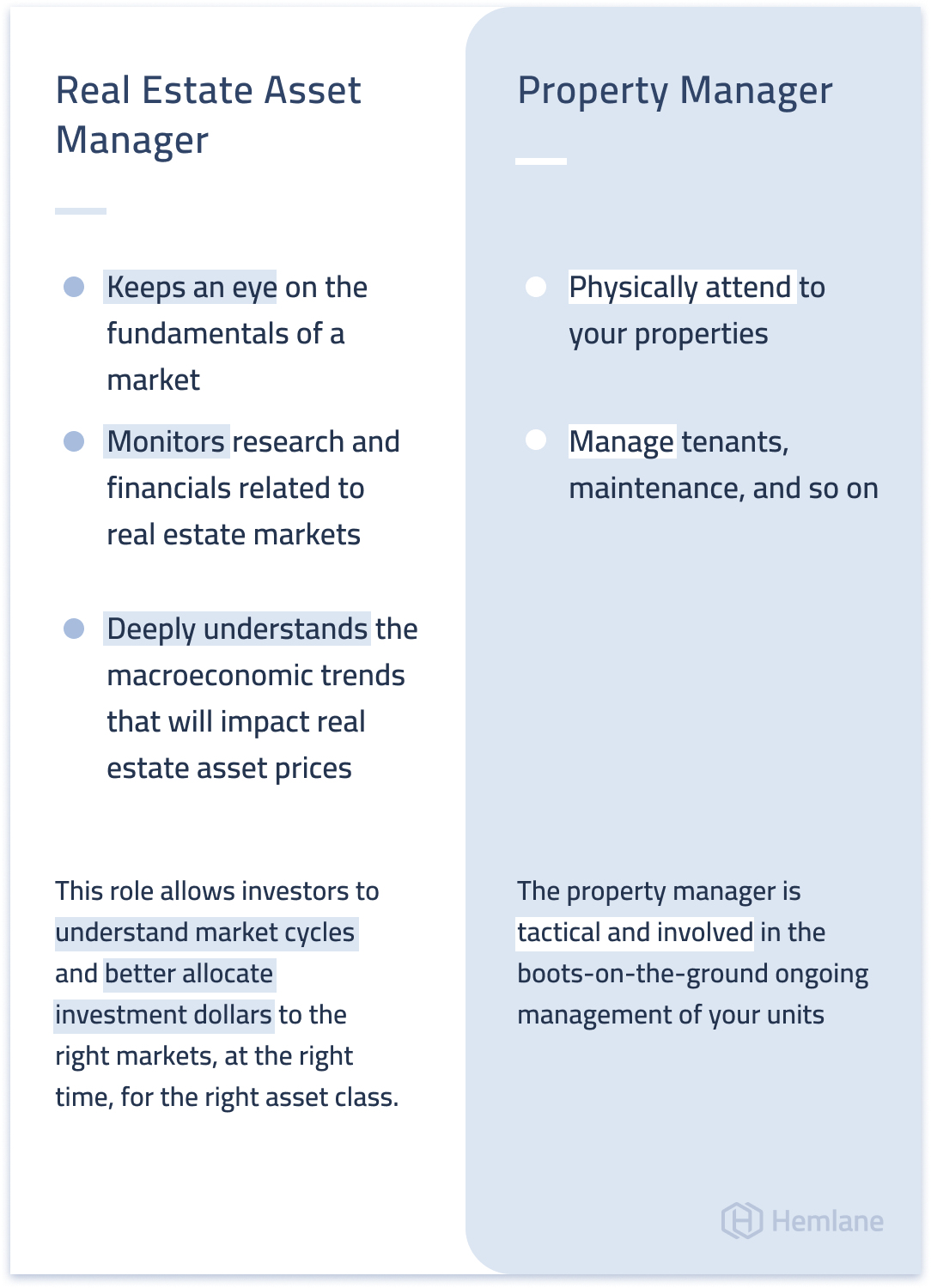 Realistically, real estate investors eventually need help in both of these roles, even though at first they may be acting both as an asset and property manager.
What is a real estate asset manager? In this function, someone keeps an eye on the fundamentals of a market, monitors research and financials related to real estate markets, and deeply understands the macroeconomic trends that will impact real estate asset prices.
This role allows investors to understand market cycles and better allocate investment dollars to the right markets, at the right time, for the right asset class.
What is a property manager? On the other hand, you need someone who can physically attend to your properties, manage tenants, maintenance, and so on. Whereas the asset manager is more hands-off and strategically looking at market data, the property manager is tactical and involved in the boots-on-the-ground ongoing management of your units.
The pros and cons of outsourced property management
At Hemlane we've heard time and time again from asset managers that they often feel their property management costs run away from them. Unchecked property management fees can surpass yearly budgets and investors and managers can feel powerless with few solutions in the marketplace.
That said, you outsourced property management to avoid the headaches of the day-to-day operations of your portfolio, or maybe you're a remote investor. Either way, outsourcing property management solved a pain point for you, but it may also have created new ones.
It seems at times that high-cost property management firms are the status quo. High fees are just the beginning to the problems that can arise with outsourced management. Real estate investors also report opaque financial reporting, high vacancy rates, and mismanagement of maintenance, low rents, and tenant dissatisfaction.
If this sounds familiar, investors should be considering bringing property management in-house.
Bringing property management in-house
If you are in a situation where you feel it's difficult to control the cost and performance of your property management you may want to bring the management in house to get better control of this part of your real estate business.
Although it may seem overwhelming to bring property management in house, with technology, you are able to automate much of the day-to-day activities.
There are two elements to consider when you bring management in-house:
Automation software
Your team of contractors and leasing agents to coordinate with
On the software front, depending on your portfolio size you'll need different styles of solutions. If you're managing more than 500 units you may want to look at Yardi, Entrata, or Appfollio. These platforms have property thresholds with minimum charges and have been designed for traditional property management.
If you are less than 500 units, then you'll want to find software designed for a portfolio of this size.  When choosing a software you'll want to consider these key features that are the most important for asset managers looking to bring property management in-house.
Multi-bank account to support payment routing.
Ability to split rent payments at inception without the need to use a trust account.
Robust financial reporting to view cash flow, income and expenses, and rent rolls.
The ability to sync with other software such as QuickBooks.
Team management to manage your repair and leasing team.
The best property management software will give you the ability to delegate all back-office functions so you can save your time for more high-level and important tasks.
With today's available technology there's no more excuses for property management via spreadsheets with shoeboxes full of receipts. Software is available to streamline your operations, and it will save you money and time.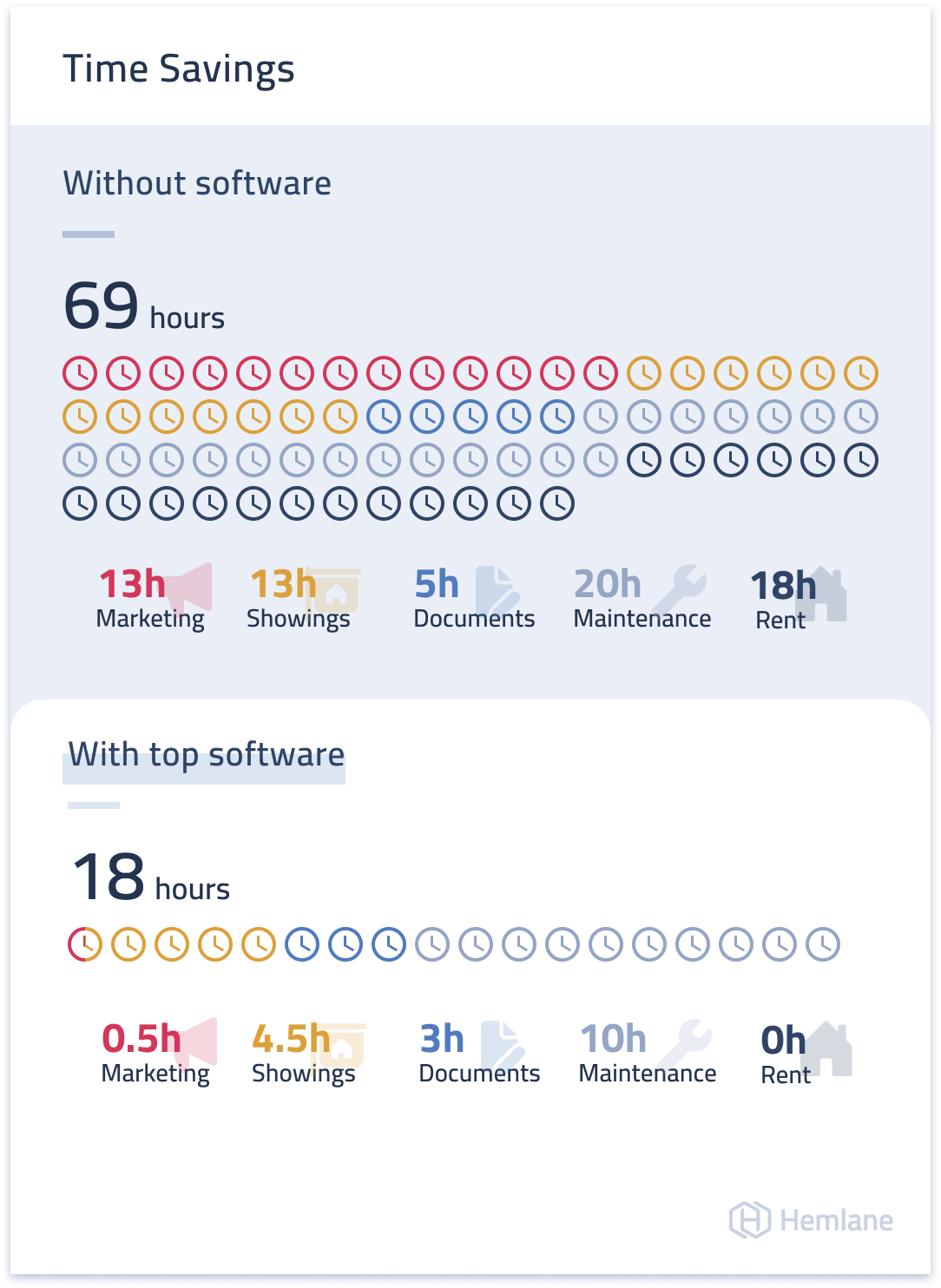 In-house property management team
Just because you take on the property management function of your business doesn't mean you'll be the one who is boots-on-the-ground. You'll need to build your support team who will support your properties in the field. Consider the following team members:
Leasing agents for tenant placement and property inspections
Repair vendors including;
Plumbers
Electricians
General Contractor
HVAC
A solution like Hemlane allows real estate businesses to build their team of repair vendors and agents (or you can use Hemlane's!). As an asset manager, you know the key to maximizing your ROI (return on income) is by having the very best team in place, which frees up your time to work on higher value tasks and strategic decision-making.
Concluding Thoughts
Property technology solutions, like Hemlane, give asset managers the ability to lower cost on management and manage and automate key decisions. This has a direct impact on your ROI and time spent working in your business. Tenant selection, repair cost quoting, and management fee expenses, to name a few, all become easier to bring in-house using a comprehensive technology solution.
As an asset manager working at a trust, advisory group, private family office, or managing your own rentals, your focus needs to be maximizing the ROI of your portfolio. You can do this by maximizing margins on your current portfolio by bringing property management in-house, all the while freeing up your time to look ahead at market cycles and future investments.
Finding and Selecting the Best Tenant
For a $2,000 monthly rental: 1. You lose $1,000 if you have your rental on the market for 15 additional days. 2. You lose $1,000+ for evictions. Learn how to quickly find and select a qualified tenant while following the law.