Effective Rent Estimates in 3 Minutes: New worksheet for investors [free download]
Rents are the bread and butter of any good real estate investment. Price your rent too low, and you risk negative cash flow, but price too high and you risk extended vacancies and frequent turnovers.
The average rent in the US for a 2-bedroom sat at around$1,800 in 2021 and $1,561 for a 1-bedroom. But it's difficult to look at national and even state averages and apply them to your individual properties. So much more needs to go into your rental estimate.
Fortunately, there are several good ways that landlords can make an effective rent estimate to keep vacancy low and cash flow up. Let's get started!
Strategies to estimate fair market rent
There are five main ways real estate investors can come up with a rent estimate:
1. Estimate rent by multiplying the home's value (not purchase price) by 1%. That means if the value of a rental home is $100,000 the minimum monthly rent should be $1,000.
2. Back into a rental estimate based on your financial needs. Although this isn't the best way to determine a rental estimate, the process will give you an idea of what your break-even point is. Analyze the impact that financing, recurring operating expenses, and monthly rental income have on rental property profitability, and come up with a number that covers all and more of these ongoing expenses.
For example, if your mortgage, taxes, insurance, property management, and utilities all add up to $1,200 a month, then charge $1,400 if the market supports that rental price.
You can also check out a Pro Forma calculator for this here.
3. Let your property management professional provide a rent estimate. A good local management company will have its finger on the pulse of the local rental market to help you set the right rent price to attract the best tenants.
4. Find a rental estimate using rent comps. There are a number of ways to research rent comps for your neighborhood, including the MLS, searching online for rentals, Craigslist, Zillow, Zumper, Apartments.com, or surveying nearby apartment buildings/duplexes/single-family homes.
5. Using an online rent estimate calculator is one of the easiest and most effective ways to estimate rent. Most rent calculators offer a rental range, along with the average and median rents for nearby rental homes most similar to yours.
Next, let's take a look at the best online rent calculators and how they work.
Online rent estimate calculators
The best online rental estimate calculators begin by incorporating artificial intelligence (AI) and automated valuations models to determine an initial rental estimate.
Next, big data from millions of homes are combined with institutional-quality research, and boots-on-the-ground analysis of local market conditions to create an effective rent estimate.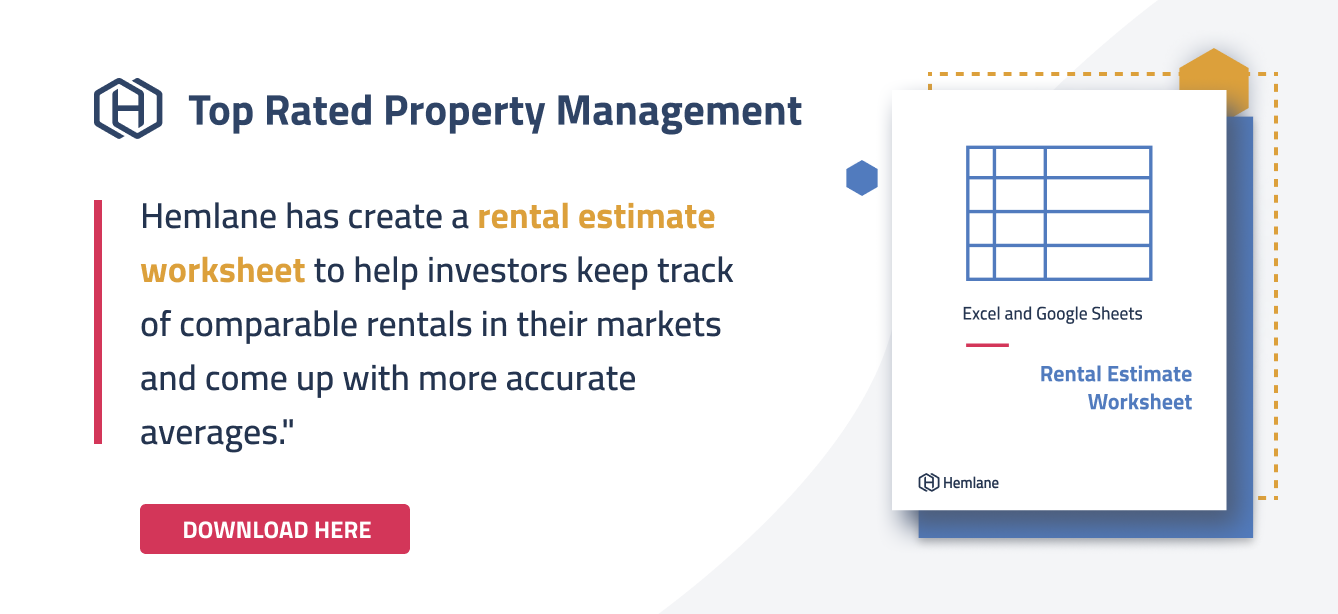 Before we begin, there's a lot of resources out there for rental estimates, it's easy to get overwhelmed. We've created this rental estimate worksheet to help you keep track of all the resources, the metrics for each, and provide you with an average rent estimate based on all of these inputs. Download it here.
With the Hemlane rent estimate worksheet, you'll need to find comparable properties in your market to get accurate averages. You can do this by searching listing sites, driving your neighborhood looking for rent signs, and using a couple of different online rent estimate calculators.
Here are a few tools to leverage when coming up with your own rent estimate worksheet.
Redfin
Redfin Rental Estimate begins by using up-to-date rental data from Walk Score to find properties similar to yours or ones that have recently gone off of the market. Rental Estimate then fine-tunes the rent estimate based on a property's unique condition, updates, and nearby amenities. Simply enter the street address to learn how much similar homes are renting for.
Rentometer
Rentometer makes it easy to compare your rent with other nearby rental properties to learn if you're charging too much for rent or too little. By entering the property address, along with the number of bedrooms and bathrooms, you'll receive the average and median rent estimates of similar nearby properties seen within the last 3, 6, or 12 months.
Major factors in a rental estimate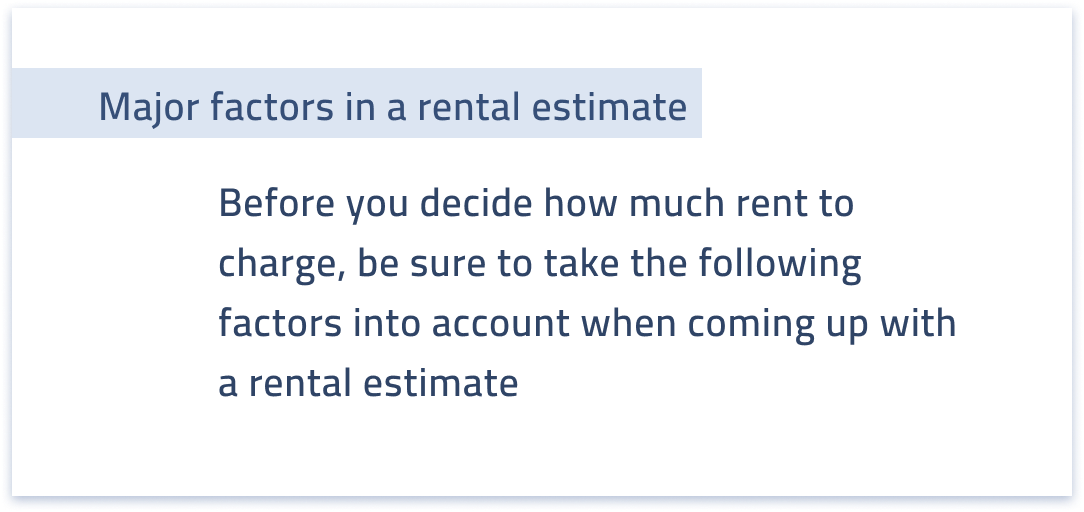 Know the competition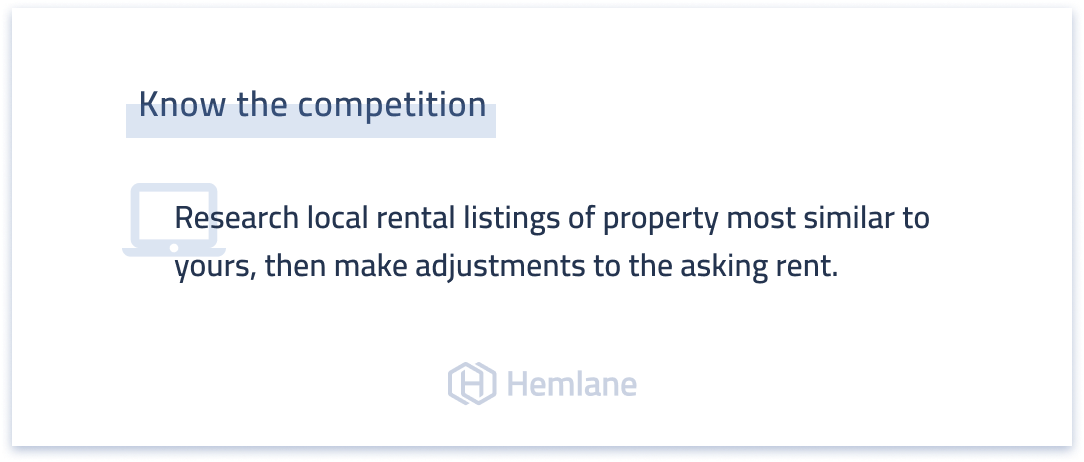 Research local rental listings of property most similar to yours, then make adjustments to the asking rent. If your home is larger or near employment or shopping districts it may rent for more. On the other hand, if your home is older with an outdated floor plan you may need to charge a rent below the market average.
Location matters
Whether you're buying or renting, location is one of the key factors that determine what a property is really worth. Most of today's millennial and Gen Z renters place a premium on convenience.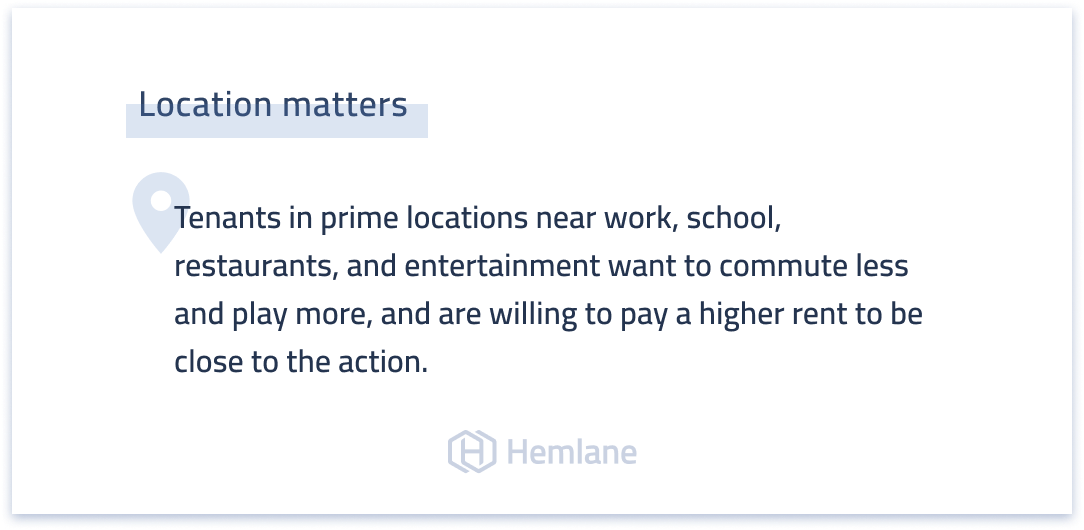 Tenants in prime locations near work, school, restaurants, and entertainment want to commute less and play more, and are willing to pay a higher rent to be close to the action.
Pet-friendly rentals
The American Apartment Owners Association (AAOA) recently reported that nearly 90% of renters are pet owners, while Property Wire notes that the demand for pet-friendly properties is on the rise because of the pandemic.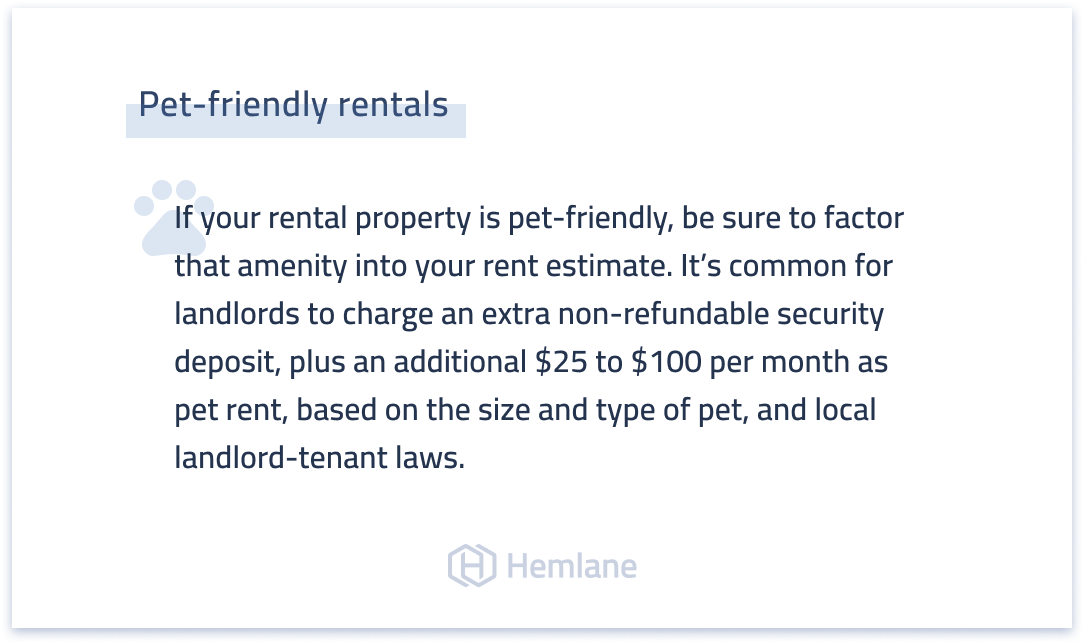 If your rental property is pet-friendly, be sure to factor that amenity into your rent estimate. It's common for landlords to charge an extra non-refundable security deposit, plus an additional $25 to $100 per month as pet rent, based on the size and type of pet, and local landlord-tenant laws.
Pro tip: be aware that certain breeds of animals are not covered by renter's insurance. You will want to check your policy to ensure your rental is protected in the case of an accident or damage. More on how to handle pets here.
Closing thoughts
Coming up with an effective rental estimate doesn't have to take a lot of time and trouble. Use Hemlane's rent estimate worksheet to keep track of all your estimation work.
There are so many good online rent estimate calculators that you can leverage to fine-tune your asking rent based on the unique features and amenities of your rental property. Price too low and you're leaving money on the table, price too high and you're asking for vacancies and turnover.
Finding and Selecting the Best Tenant
For a $2,000 monthly rental: 1. You lose $1,000 if you have your rental on the market for 15 additional days. 2. You lose $1,000+ for evictions. Learn how to quickly find and select a qualified tenant while following the law.