How to become a remote property manager
Being a real estate investor means you have to become a property manager as well. Whether or not you're the one communicating with tenants, contractors, or signing leases, investors need to become familiar with the realities of what it takes to manage a rental property.
In order to become a property manager and speak that lingo, investors need specific tools and knowledge. Landlord insurance, tenants with pets, move-in checklists, maintenance, payments, and the list goes on. Each one of these specific tasks has best practices and lessons learned that all investors need to know as they slowly become property managers.
I know what you're thinking, I hire a property management company to take of all that. Very true. Me too. But, you still need to understand what the property managers are doing, or not doing, to ensure you have the best possible steward of your assets. After all, it's your portfolio.
What follows is an introduction to how to become a property manager who can effectively manage their portfolios from anywhere. This is achieved through two primary components: having a tech-savvy toolkit and knowing what to expect when owning rental real estate. Let's get started.
What exactly does a property manager do?
As a property manager, especially one who is remote, there are a myriad of tasks that each require their own standard operating procedures. These property management buckets will help ensure nothing falls through the cracks.
As you build your property portfolio, it's important to develop your own procedures around the major tasks associated with property management. These are: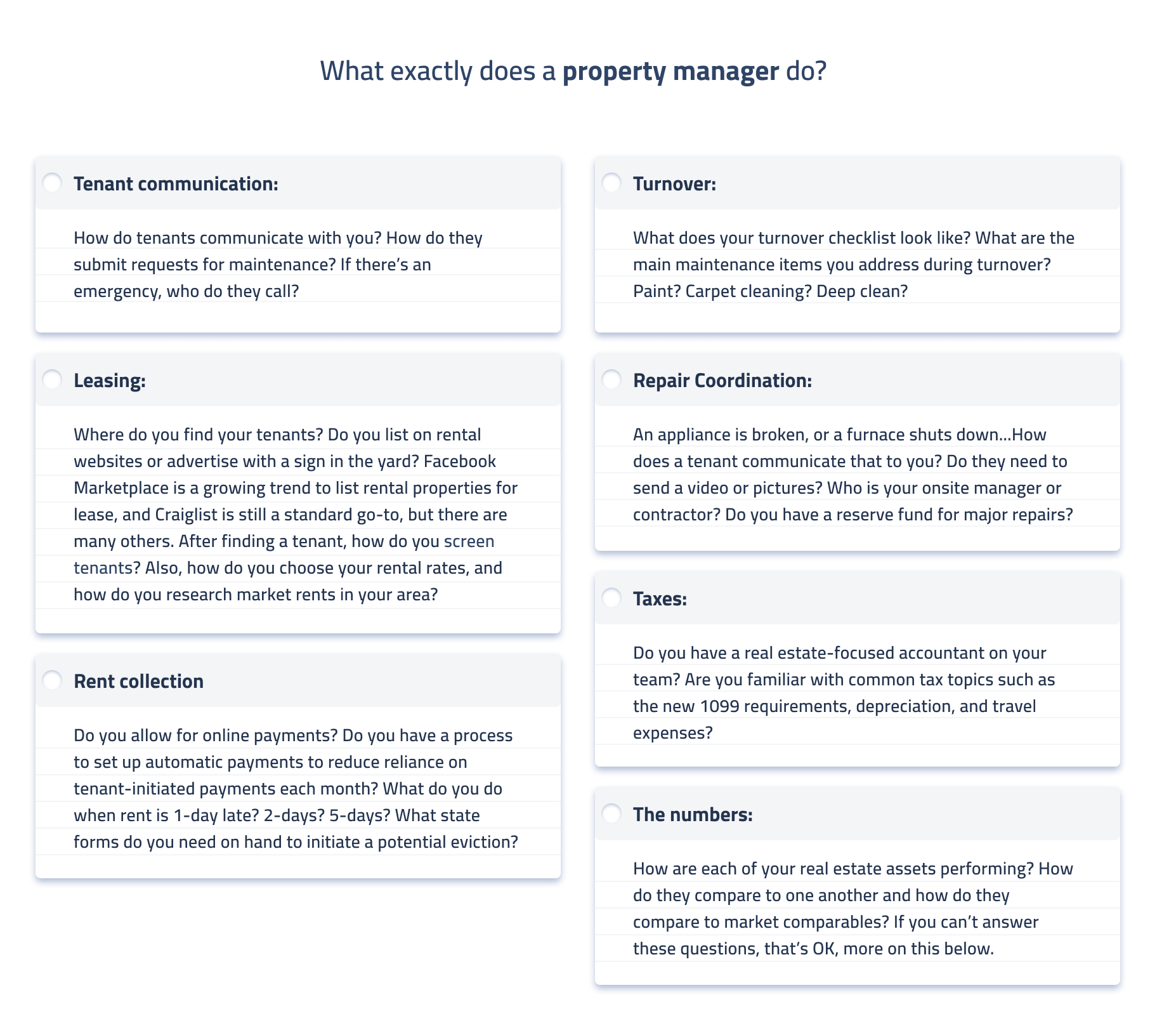 Tenant communication: How do tenants communicate with you? How do they submit requests for maintenance? If there's an emergency, who do they call?
Leasing: Where do you find your tenants? Do you list on rental websites or advertise with a sign in the yard? Facebook Marketplace is a growing trend to list rental properties for lease, and Craigslist is still a standard go-to, but there are many others. After finding a tenant, how do you screen tenants? Also, how do you choose your rental rates, and how do you research market rents in your area?
Rent collection: Do you allow for online payments? Do you have a process to set up automatic payments to reduce reliance on tenant-initiated payments each month? What do you do when rent is 1-day late? 2-days? 5-days? What state forms do you need on hand to initiate a potential eviction?
Turnover: What does your turnover checklist look like? What are the main maintenance items you address during turnover? Paint? Carpet cleaning? Deep clean?
Repair Coordination: An appliance is broken, or a furnace shuts down...How does a tenant communicate that to you? Do they need to send a video or pictures? Who is your onsite manager or contractor? Do you have a reserve fund for major repairs?
Taxes: Do you have a real estate-focused accountant on your team? Are you familiar with common tax topics such as the new 1099 requirements, depreciation, and travel expenses?
The numbers: How are each of your real estate assets performing? How do they compare to one another and how do they compare to market comparables? If you can't answer these questions, that's OK, more on this below.
Documenting and experiencing all of these day-to-day tasks will help you become a better property manager, and ultimately real estate investor. In the coming months, we will be doing a deep dive into all of these topics, so be sure to sign up for notifications.
Remote property manager metrics
You can walk the walk of a property manager, but can you talk metrics? Knowing cap rates, operating expense ratios, cash flow, and so on, will give you guidance on how well your assets are performing. Let's look at the most important metrics for you as you look to become a remote property manager.
Net Operating Income (NOI): This is your income, minus expenses, and excludes debt service. The NOI calculation is critical for investors as it gives you the basis for valuing your property when combined with market cap rates.
NOI example:
$2,000 in rent a month x 12 months = $24,000 in gross income.
33% of income goes to expenses (for example), so NOI would be $24,000 x 67% = NOI of $16,080.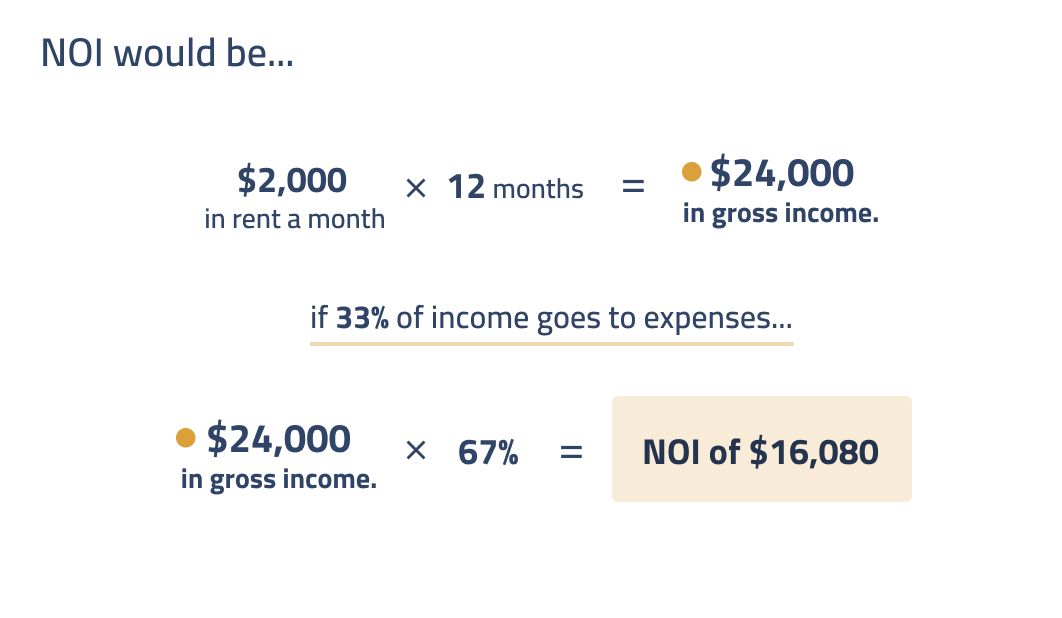 Cap rate: The capitalization rate is simply a measure of profitability. Cap rates need to be considered in conjunction with market cap rates, that is, how other properties in your market are valued.
Cap rate examples:
A typical cap rate can range from 4-12% depending on the market. A lower cap rate indicates a higher asset price, and is typically seen in major urban centers. Lower cap rates indicate a lower asset price. But this is not necessarily a bad thing.
Cap rate is calculated by dividing your NOI by the current market value, or price you paid. NOI = $15,840 and you paid $250,000 for example, the cap rate would be 6.3%.
NOI = $15,840 in a market with a 5 cap gives you an asset value of ($15,840 / 0.05) = $316,800.
NOI = $15,840 in a market with an 8 cap gives you an asset value of ($15,840 / 0.08) = $198,000.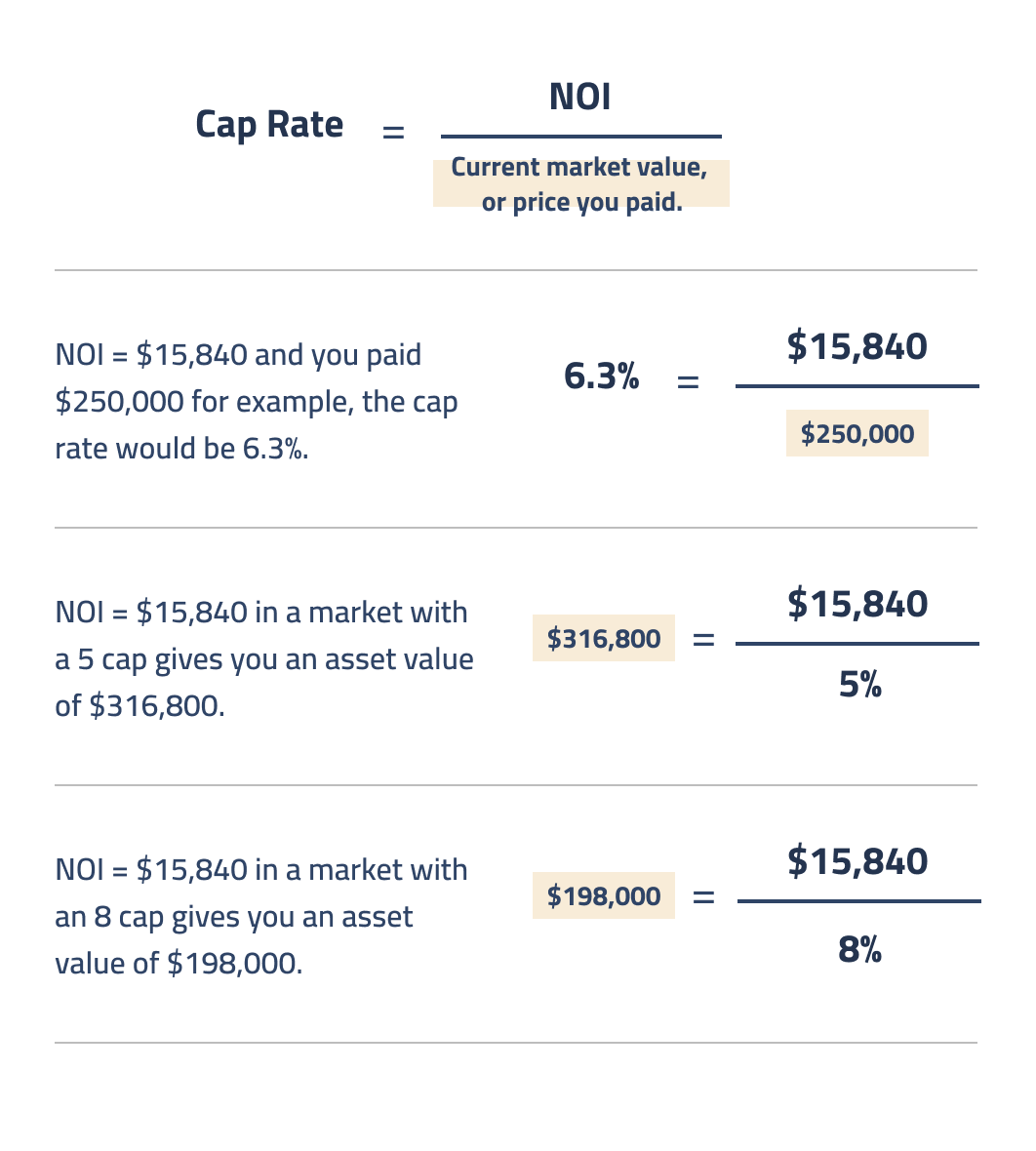 As you can see, your market cap rate plays an important role in the value of your real estate assets.
Cash flow: Simply put, the cash that is leftover in your account after expenses are paid, including debt service. If you're getting less and less each month, or are seeing negative cash flows, you have a problem!
Operating Expense Ratio (OER): For a remote property manager, the OER metric is critical and allows you to effectively compare all your assets and how much you're spending on expenses. Usually, an OER of 25-40 is considered good.
OER examples:
Real estate investors can take their total expenses and divide it by gross income to get their OER.
For example, gross expenses are around $8,000 and your gross income is $24,000. Your OER would be $8,000 / $24,000 = 33.
There are more, but these are the metrics that we have to know and master if we want to become effective and savvy property managers.
Tech stack for remote property managers
Real estate is a legacy industry that is slow to change. The ongoing disruption in the property technology (proptech) space is changing that, quickly.
There are so many tech tools out there, but there are a few critical ones to your business you need to get set up if you want to be a successful remote property manager. Here's a brief overview of what your technology toolbelt should look like as you become a property manager.
Property management system (PMS): Whether you are on-site managing properties, or completely remote, you need a platform that is your single source of truth for all property-related data and metrics. Still running your business of a spreadsheet? That's a red flag that you need to explore technology solutions to make your property management and investing business more efficient and automated.

Rent collection: You should be collecting rent digitally through a payment processor or directly in your PMS.
Smart home devices: Explore the usage of smart home thermostats, locks, and other sensors to help you avoid problems like overpaying utilities or losing keys.
Digital filing cabinet: Use a cloud storage service to digitize all your documents, bills, and receipts. This will make tax-time and document retrieval much easier. Trust me, your accountant will thank you.
Your phone: Is kind of like your office, especially if you are on the move. You'll want to make sure your PMS is mobile-friendly, and you can also use it on-the-go for advertising properties, calculating rent, and analyzing potential deals.
Tenant screening: There are a number of technology platforms out there that will help remote property managers screen tenants. Whether it's a credit or criminal check, find a solution that will enable you to make your screen more streamlined through technology.
Virtual tours: There are tools out there that allow you to film 3D tours and walkthroughs of your properties. This will make tenant turnover way more efficient by not making you physically show the property to each prospective tenant.
Finally, to compliment your tech stack as a remote property manager, you also need to keep yourself informed. Where do you get your news and information? There are tons of great real estate blogs, media sites, and newsletters. Make sure you're exploring the best ones, signing up for one, and spending time digesting the best information possible.
Becoming a property manager: Final thoughts
As we enter the post-COVID new normal, technology has become more important than ever. Not only to make your business more efficient, but to provide the access and frictionless experience tenants are looking for, especially the younger generations.
You need standard procedures for each operational bucket of your business. Complimenting that with the myriad of technology tools currently available and you'll be running a profitable real estate investing and property management business in no time.
In future articles, we will explore these specific aspects of your business in more detail. In the meantime, take a close look at what type of property manager you want to become, and how technology will help enable you.
Becoming a property manager is difficult enough without help from technology, so if you're looking to manage remotely, you need to get your technology house in order.
Finding and Selecting the Best Tenant
For a $2,000 monthly rental: 1. You lose $1,000 if you have your rental on the market for 15 additional days. 2. You lose $1,000+ for evictions. Learn how to quickly find and select a qualified tenant while following the law.