10 Tactics for Advanced Property Management You've Haven't Considered [+ Bonus]
Many investors who have been in the rental management business for a while begin to feel like they've plateaued. In other words, they've reached a point where it feels like there's little or no change no matter what they do.
Being a successful real estate professional means continual education and development, no matter how successful you think you are or how big your portfolio is. Sometimes that means reading articles like this one, where we reveal 10 tactics for advanced property management.
Even if you're a beginner investor, these tactics and tips can be implemented any time and help you fast-track your path to a profitable real estate portfolio.
What is to follow are some ideas to help your professional development with some more advanced tactics you probably haven't considered.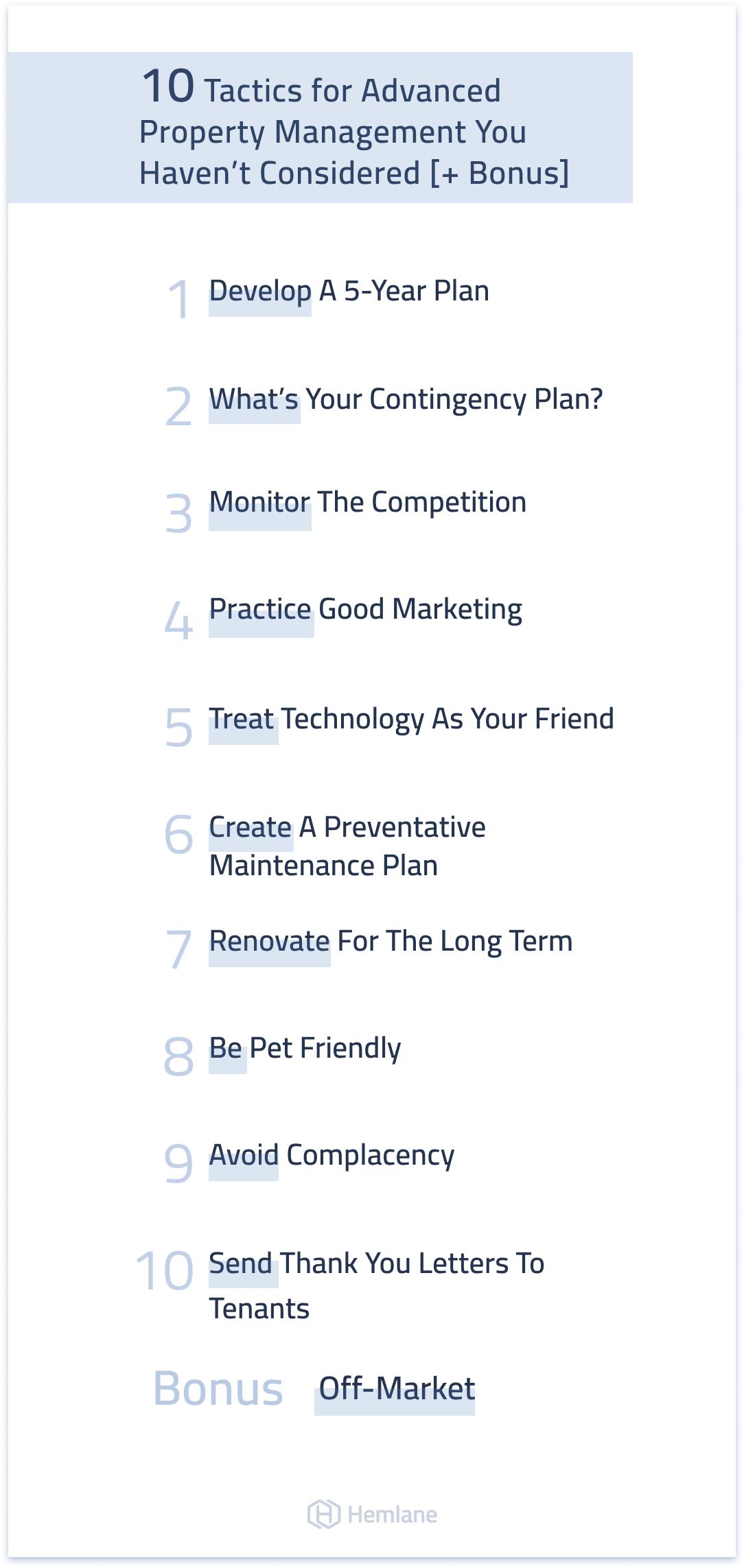 Tactic #1: Develop a 5-Year Plan
Let's begin with the big picture first. By knowing what your end-game is 3, 5, 10, or even 20 years from today, it's much easier to develop advanced property management tactics that can help get you to where you eventually want to be.
For example, an investor who wants to retire and live off of the property rental income will be more focused on cash flow rentals. On the other hand, property owners buying-and-holding for five or ten years might look for property yielding a more balanced blend of NOI (net operating income) and long-term appreciation.
Whether you're a remote investor or a hands-on property manager, you need to understand your goals and where you want to end up. If you haven't developed a long-term plan, take time to think about yours and write one down.
Pro Tip: If you're not sure how to develop a plan, try using the SMART structure when developing your goals - Specific, Measurable, Attainable, Relevant, Time-based.
Tactic #2: What's Your Contingency Plan?
Advanced property management also means having a contingency plan, because one thing for sure about real estate investing is that things don't always go as planned. The past year of the pandemic has certainly proved the absolute need for understanding worse-case scenarios and contingency plans.
By always having a 'Plan B' you'll avoid being caught off guard and wondering what to do next and can act quickly without hesitation.
It helps to think of a contingency plan as a group of "What-If" scenarios.
Maintenance: If a plumbing line breaks and floods your rental in the middle of the night, what do you do?
Financial: Or, if your go-to lender says no to a cash-out refinance to pull cash out of one property to buy another, what are your alternative options instead of letting the deal of a lifetime slip through your fingers? What if interest rates go higher?
Vacancy: At what vacancy rate do you become no longer profitable? Would a 20% vacancy put your portfolio in the red? Have you done your homework on setting effective rental rates?
Exit Strategy: What if you needed to sell immediately, how would you do that? For example, could you wholesale?
It's always a smart idea to think about and write down your contingency plan for each property and portfolio.
Tactic #3: Monitor the Competition
There are plenty of good online rent estimate calculators to run rental comparables. However, a good property owner always keeps an eye on what the competition is doing, because comps don't tell the full story.
By pretending to be a prospective tenant, you can 'secret shop' to learn what the competition is really up to. Based on your research, you may want to set your rent a bit below market to keep vacancy low and also offer a great tenant a very attractive rent to renew their lease.
You can also browse rental websites and use a spreadsheet to track comparables.
Tactic #4: Practice Good Marketing
Think of yourself as a salesperson when you're marketing for a new tenant. While it's true that everyone needs a place to live, the truth is that the very best tenants almost always have choices.
It's your job to show a great tenant why they should rent from you and not the landlord on the next block. Tenants need to be intrigued and enticed by your property, which is where good marketing comes in.
Develop your list of all the online listing websites to advertise your rental, there are dozens and you should be leveraging them all to market your properties.
Tactic #5: Treat Technology as Your Friend
Property management platforms like Hemlane offer end-to-end solutions for landlords.
In just a few minutes you can upload all your property information and have a number of data points at your fingertips.
Today's technology allows you to do everything online, including rental advertising, applicant tracking, tenant screening, online rent collection, lease management, maintenance repair coordination, and much more.
Tactic #6: Create a Preventative Maintenance Plan
Property owners who take preventative maintenance seriously are more successful in the long run. Minor maintenance items that go unattended can quickly spiral out of control, creating the need for a major repair at the worst possible time.
A good property maintenance checklist is the first step in creating a preventative maintenance plan. The checklist serves as a reminder of what to inspect and when, to help prolong the life of mechanical systems such as heating and plumbing and ensure that the tenants have a safe place that they're proud to call home.
Well-maintained rental properties have lower vacancy rates, leading to more consistent cash flows. Rental properties with higher net operating incomes (NOI) also have greater market values. Lenders will sit up and take notice when you go to the bank and ask for a loan to add another rental to your real estate portfolio.
Tactic #7: Renovate for the Long Term
Although many upgrades can take several years to pay for themselves, maintenance costs will be lower and incremental rent increases will be larger with the right renovations. Updating bathrooms, and installing dishwashers, washers, and dryers will usually lead to higher monthly rent.
However, before beginning a renovation project it's important to keep your target tenant in mind.
For example, investors who own workforce housing rented to middle-income tenants such as police officers, army personnel, school teachers, and city employees may find their tenants have a limit to how much more rent they can pay. By strategically making the right renovations, property owners can improve cash flow and property value without running the risk of losing tenants.
Tactic #8: Be Pet Friendly
Having a pet-friendly rental is another advanced property management tactic used to decrease vacancy and increase cash flow. According to the American Apartment Owners Association (AAOA), 90% of renters are pet owners and are willing to pay more rent to keep their pet.
Instead of viewing pet-owning tenants as a liability, savvy investors understand that being pet-friendly is a great way to increase monthly cash flow and property value.
Although the extra monthly rent for a pet may be $35 or less according to Realtor.com, that extra income can really add up. In a market where rental property trades at a 5% cap rate, the extra $420 per year from pet rent would increase the property value by $8,400.
Tactic #9: Avoid Complacency
What do businesses like Airbnb, Amazon, Uber, and Zoom all have in common?
They've become multi-billion dollar companies by disrupting complacent competitors that made the mistake of thinking that their past results would also guarantee future success.
In today's world, change is a given, and the real estate business is no exception. In fact, most industry experts strongly believe that the real estate industry is ripe for disruption.
As an investor, it's better to stay ahead of the curve than fall behind. What does your technology stack look like? If it involves a spreadsheet and a printer you may be in some trouble.
Keeping on top of the latest tech trends with continuing education, networking, and attending local investing groups will help you to avoid falling into the complacency trap.
Start by signing up for Hemlane's newsletter to stay up-to-date on the latest real estate and technology trends.
Tactic #10: Send Thank You Letters to Tenants
Many of the advanced property tactics we've discussed involve technology. However, sometimes going old school can yield surprisingly high rewards. Take writing a thank you letter to your tenant as an example.
Most of us can't remember the last time we received a handwritten letter from anyone, let alone a landlord, which is one of the reasons writing a letter can be so memorable and effective.
You could send a handwritten note to your tenant for paying the rent on time, taking care of the property, or reporting a maintenance issue. Thanking the tenant shows that you care about your property and your tenant, and also reinforces good behavior.
Bonus Tactic: Off-Market
Are you currently in a heated real estate market? Consider finding off-market properties by leveraging your network instead of relying on public real estate listings.
Bidding wars and high demand have pushed real estate prices to record highs, and overpaying for an investment asset is a good way to limit cash flow and cash-on-cash return. The best way to generate off-market leads is to put the word out to your network on what you're looking for, go door-to-door, or even send mailers to property types that fit your investment model.
Closing Thoughts
The best tactics for advanced property management are a mixture of high-tech and old school. As a property owner, your job is to have your properties operate as smoothly and profitably as possible.
Each of the tactics we've covered are ones that most people have never considered. By using each and every one, you'll have the tools you need to take your rental property business to an entirely new level.
Finding and Selecting the Best Tenant
For a $2,000 monthly rental: 1. You lose $1,000 if you have your rental on the market for 15 additional days. 2. You lose $1,000+ for evictions. Learn how to quickly find and select a qualified tenant while following the law.