Rental Vacancy Continue to Climb as Home Prices Decrease
🏡 National rental vacancy rate above pre-pandemic levels
The national vacancy rate rose to 6.8% in April, which is slightly higher than the average 2018/19 pre-pandemic rate of 6.6%. It is likely this rate will continue to increase in the upcoming months. More multi-family units are being built today than any other time period since 1970, and this has fueled the upwards vacancy trend. This increased vacancy can lead to landlords feeling pressure to decrease rental listing rates. Read more here.
To get a competitive advantage in finding your next tenant, check out our Leasing+ and Agent+ services.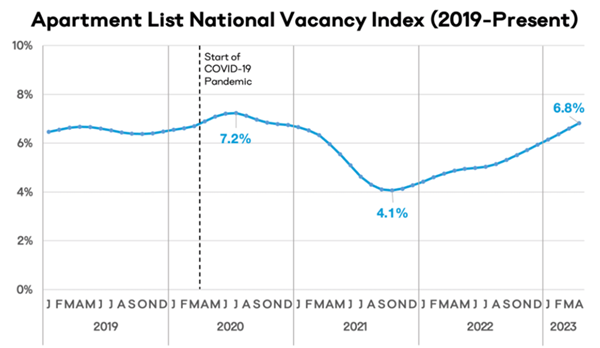 Globe St reports that apartment rent had increased MoM in March by 0.25%.
This increase is the most significant rent jump this year as it was over 2x the increase between January and February.
📉 Median home sales prices decreased 0.9% YoY
Nationally, the median home prices for all housing types had dropped to $375,700 in March 2023. This was 0.9% lower than March 2022 ($379,300). The 30-year fixed rate mortgage averaged at 6.27% which is over a 1% increase one year ago. Alongside the increase in mortgage rates, the number of unsold homes has also increased by 1% MoM to 980,000. Read more here.
"Home sales are trying to recover and are highly sensitive to changes in mortgage rates,"
Lawrence Yun, NAR Chief Economist.
🏢 Profit margins remain flat QoQ
The number of homes sold in March was down by 20.6% YoY, according to Redfin, despite a steady increase since February.
ATTOM reports that the profit margins for residential real estate remained flat or have declined QoQ in over 65% of metropolitan areas throughout the U.S.
Although the overall market has been flat, some cities are experiencing higher price increases. ATTOM list of the top five cities for price growth and decline are shown below.

"Over the next few months, we can expect to gain more clarity regarding whether the current market stagnation is a short-term aberration or a more significant trend."
Rob Barber, ATTOM CEO
If you are considering selling or renting your properties, you can use this calculator to help bring some light to your decision.
💸 Pandemic boomtown investors selling at a loss
Across 40 of the most populous cities, Redfin reports that investors have lost money on roughly 1 in 7 (13.5%) of home sales. Markets that had the most growth during the pandemic are now experiencing a much faster price decrease. In March, over 28% of homes sold by investors in Phoenix and Las Vegas were at a loss.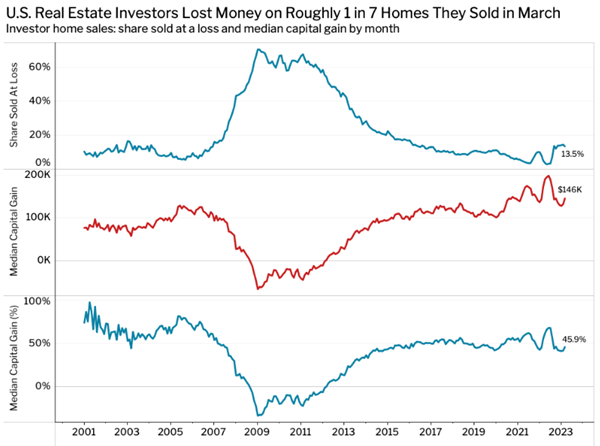 💼 253,000 net new jobs across the nation
Unemployment decreased to 3.4% this April as The Bureau of Labor Statistics reports an increase of 253,000 net new jobs across the nation in the month of April. With the health care, professional and business services, leisure and hospitality, and social assistance sectors seeing the most job gains.
With a strong job market, the housing markets may see growth as households have more spending power. However, this can also lead to increases in prices and inflation. Click here for more insight on this topic.
Finding and Selecting the Best Tenant
For a $2,000 monthly rental: 1. You lose $1,000 if you have your rental on the market for 15 additional days. 2. You lose $1,000+ for evictions. Learn how to quickly find and select a qualified tenant while following the law.