Mastering Lease Renewals with Tenants
Performing a lease renewal with tenants does not have to be a stressful or complicated process. If you have a solid lease contract in place, the lease renewal is simply a matter of agreeing to a new tenancy term, changes to the rent amount, and any other changes that might be relevant (like occupants, or pets).
The key thing to remember is that you are compliant with local legislation on notice period, rent increase limitations, and if the current lease provides limitations as well. Lease renewals are typically one to two pages in length, maximum, and we have provided a comprehensive guide below to help with this process.
If you don't have a strong lease in place, we recommend that you check out this comprehensive guide to create a strong lease.
---
How do I set up a lease renewal for tenants?
The #1 mistake that landlords and managers make with lease renewals is that they set up a new lease. Before the lease expires, you will want to reach out to the tenants and determine if they intend to renew.
Pro Tip: Use a platform like Hemlane to help you professionally manage. Receive timely reminders of lease term expiration, seamlessly communicate with tenants, and adjust automated rent requests based on the new terms.
Steps to take BEFORE the lease renewal
If you want your tenants to feel good about signing a renewal at an increased rental rate, you need to research what other rentals are on the market. This rental estimate calculator will provide you with an entire download to back up your renewal rates and incentivize tenants to sign a longer lease with you.
As your lease comes closer to the renewal, reach out to your tenants to provide renewal options. This typically happens anywhere between 30 to 90 days before the renewal (can vary based on jurisdiction and property requirements). Make sure to provide them with a reply-by date as well!
Now that you know what else is out there from the rent estimate, we recommend that you offer two options when seeking to extend your lease. The difference in price is going to incentivize your tenant to sign a longer lease:
1. Month-to-month at a rate closer to or at the current market rates
Staying month-to-month typically means that both you and the tenant have the uncertainty of a 30-day notice at any given time. If this happens during a slower rental season (for example, winter in Chicago), this can put you at a disadvantage. You will make the month-to-month as close to the current market rates, making tenants feel like they got a good deal by signing a longer lease. However, if the tenants wish to remain month-to-month and accept those terms, send a "Rent Increase Notice".
2. Longer lease at a rate below current market rates
These longer leases tend to be 12 months, but you may adjust it to a 6 or 18 month lease to have your turnovers in months with high demand (for example, summer for single family homes). In fact, if you share with your tenants the current market rates (reminder - you can find the rent estimate report here), your tenants will want to sign a longer lease and feel good about signing at a rate below market, but most likely above your current rental rate.
If the tenants agree and wish to renew for an agreed upon term (which we hope they do!), send a "Lease Renewal Notice".
Pro tip: Note that in some jurisdictions there are strict guidelines on when notice must be given and by how much rents can be raised. For example,in California, the Tenant Protection Act (AB-1482) requires 90-day notice for all increases over 10% (if you are able to raise it that much), or 30-day notice for all month-to-month or yearly leases if tenants have lived at the property for more than one year. You are also limited on how much you can increase rent and must have "just cause" for lease termination, with some exceptions based on property age, type, or if an owner lives on the premises.
Check out your state laws here.
How to handle tenants who decide to move out
If the tenants decide they don't want to renew the lease, start planning ahead for the turnover.
You will want to begin marketing the property as soon as possible, ideally coming up with an arrangement for showing the property while the tenants are still occupying it. If you have a good rapport, some landlords offer cash incentives if the current tenants show the property to a future tenant who decides to sign a lease. Alternatively, you can arrange set times with sufficient notice. This will help prevent a long vacancy.
For setting a new rent price, consider:
What is competitive (check out our rent calculator here)
Upcoming maintenance expenses (check out our building maintenance checklist here)
Property taxes
Insurance premiums
HOA or condo fees
Strike a balance between covering the costs of higher expenses and what renters can afford. Having a rental property does largely shield you from inflation because rents often keep pace with inflation, however, if you price too high, even in this supply-constrained market, having no renters or renters who can't pay, means no income for you.
Lease renewal checklist
For the official notice, make sure to refer to the current lease. You can use our lease renewal template, which will be one to two pages once it is complete. This will include who the agreement is being made between and the full property address.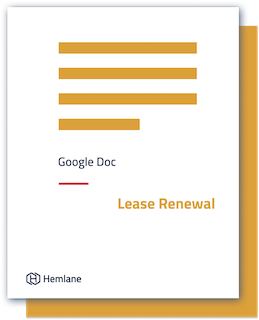 Pro Tip: Many landlords put their home under and LLC and use virtual mailboxes as their mailing address. See our article on The Framework for Starting Solid Rental Management here.
Here is what the renewal document should contain:
1. Lease Extension Date
The new end date for the lease and whether it will terminate or go month-to-month after that date.
2. Rent Adjustment
Renewal term, rent percentage increase, and new rent amount. Don't leave any room for ambiguity!
3. Other Changes to Terms
Any other terms that may be changing from the original lease.
Another pro tip: Use a service like Hemlane to give you access to legal templates and esignature capabilities
What other items should you make sure are in the lease renewal?
Things change in life, and that goes for the tenants as well.
Here are some items you should confirm as part of the renewal process:
That there has been no change of pets in the household.
There is active pet insurance that extends through the term of the renewal.
Renter's insurance has been extended through the term of the renewal.
All occupants over the age of 18 are listed on the renewal contract.
Schedule and perform an inspection of the premises.
Final thoughts
Lease renewals can be stressful if you aren't proactive, or have a strong lease already in place. However, following the steps we've outlined above means you will be communicating with tenants well in advance of the lease expiration. This means you'll have lots of notice in the event of an upcoming turnover, and therefore can mitigate vacancy risk. Or, you will have peace of mind knowing that the current tenants will be staying.
It's also important to note that almost 50% of renter moves are due to cost-of-living increases. As a savvy landlord or manager, the best thing you can do is to be proactive and stay informed on your local legislation requirements and the current economic climate. Sometimes it pays dividends to keep current tenants in place for a lesser rent increase, than it is to risk a long vacancy!
Finding and Selecting the Best Tenant
For a $2,000 monthly rental: 1. You lose $1,000 if you have your rental on the market for 15 additional days. 2. You lose $1,000+ for evictions. Learn how to quickly find and select a qualified tenant while following the law.