Massachusetts Tenant-Landlord Law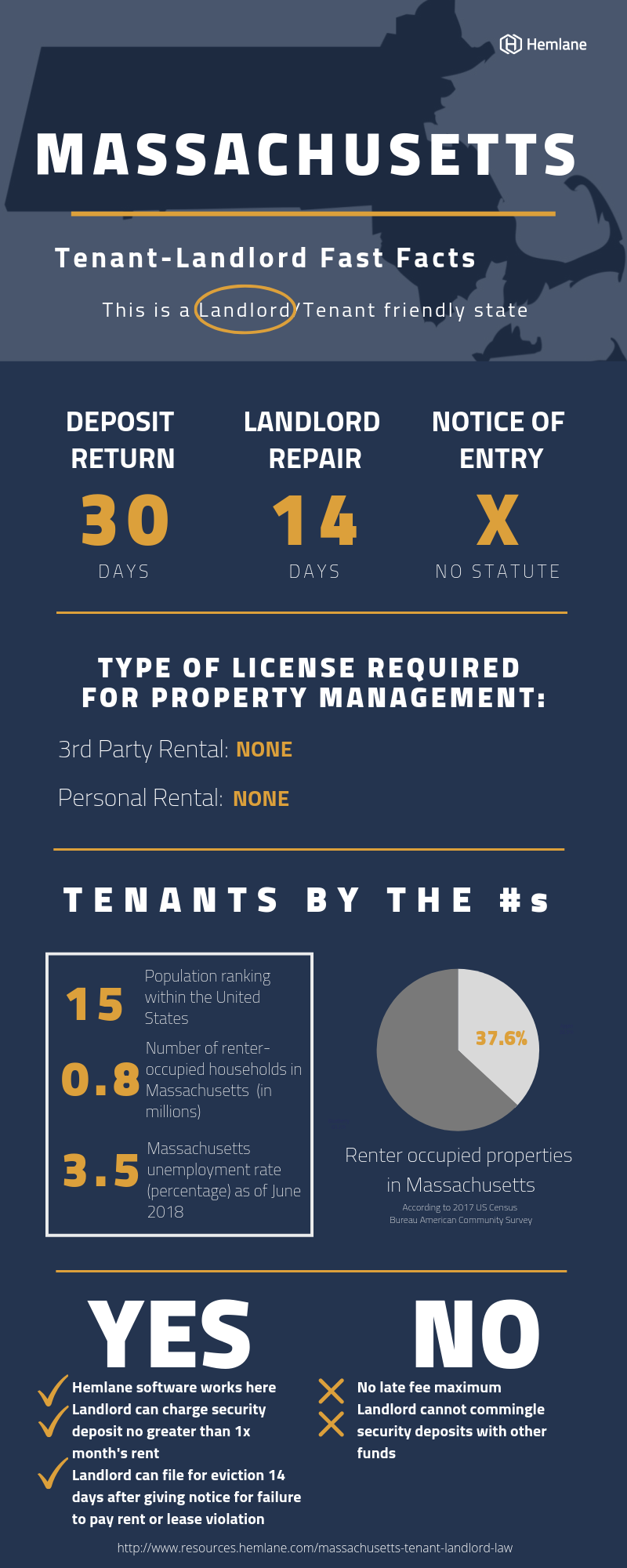 ---
Fair Housing
The Fair Housing Act was created in order to ensure that everyone is treated equally during the housing process. It protects tenants from discrimination when seraching for a rental property. At the federal level the Fair Housing Act protects the following classes…
Race
Color
National Origin
Religion
Sex
Familial Status
Disability
In addition to federal fair housing laws, under Massachusetts law it is illegal to discriminate based on…
Source of income (Section 8 recipient: Welfare, Food Stamps)
Blindness
Hearing impairment (or because such a person possesses a trained dog guide as a blindness or hearing impairment)
Other disability
Sexual orientation
Gender identity and expression
Marital status
Military or veteran status
Age
Massachusetts landlords must also abide by Massachusetts Lead Law which states that a property owner must remove or cover all lead paint hazards in homes built before 1978 where any children under 6 live. Because of this law, landlords may not discriminate against families with children under the age of 6.
Learn about fair housing at the federal level here /landlord-must-know-fair-housing/
Security Deposit
---
Rent and Late Fees
Rent increase: If a landlord chooses to increase the rent on a residential unit, they must give the tenant at least a 30 day notice.
Rent is due: There is no statute for a set day that rent must be due, but it should be outlined and agreed upon in the lease agreement.
Grace period: There is a rental grace period of 30 days (MGL c.186 § 15B(1)(c)).
Late fees: Charging a late fee is allowed, but not required (MGL c.186 § 15B(1)(c)).
---
Notices and Entry
Termination of month-to-month lease: landlord or tenant must give at least 30 days notice when terminating the lease (MGL c.186 § 12).
Termination for non-payment: The landlord must give the tenant a 14 day notice before filing to evict the tenant for nonpayment of rent. (MGL c.186 § 11).
Notice of termination of all other leases for non-payment: The tenant has 14 days to remedy or quit, unless this has happened to the tenant within twelve months before.
Termination by landlord without notice: Landlords may terminate the lease with no notice if the tenant is involved in illegal activity, such as (but not limited to) prostitution, illegal gambling, or illegal sale of alcohol or drugs. (MGL c.139 § 19).
Landlord notice before entering: There is no statute for the notice a landlord must give before entering the unit, but we recommend at least 24 hours.
Emergency entrance: allowed without notice.
Notifying landlord for repair: Tenants must give the landlord a notice if a repair needs to be made. The landlord then has 14 days to make the repair.
Deducting rent: If a repair cannot be made within that time, the tenant can make the repair and deduct rent. The paymeny deducted must not exceed 4 months rent. (MGL c.111 § 127L).
---
Disclosures
Landlord responsibilities:

Include water, heat, kitchen appliances, and removal of cockroaches and rodents.
From September to June (winter months), landlords must keep the temperature in the units at least 68ºF between 7am and 11pm, and 64º between 11pm and 7am.
The kitchen must include a sink, a stove and oven, and the space for a refrigerator.
The landlord does not need to provide the refrigerator, however. If one is provided, it is the landlord's duty to maintain it. (Tenant's Rights Handbook)

Disclosing authorized personnel to tenant: The landlord must disclose the name(s) and address(es) of anyone authorized to manage the property. They must also disclose the amount of the security deposit, and the tenant's rights (see handbook above).
---
Eviction Laws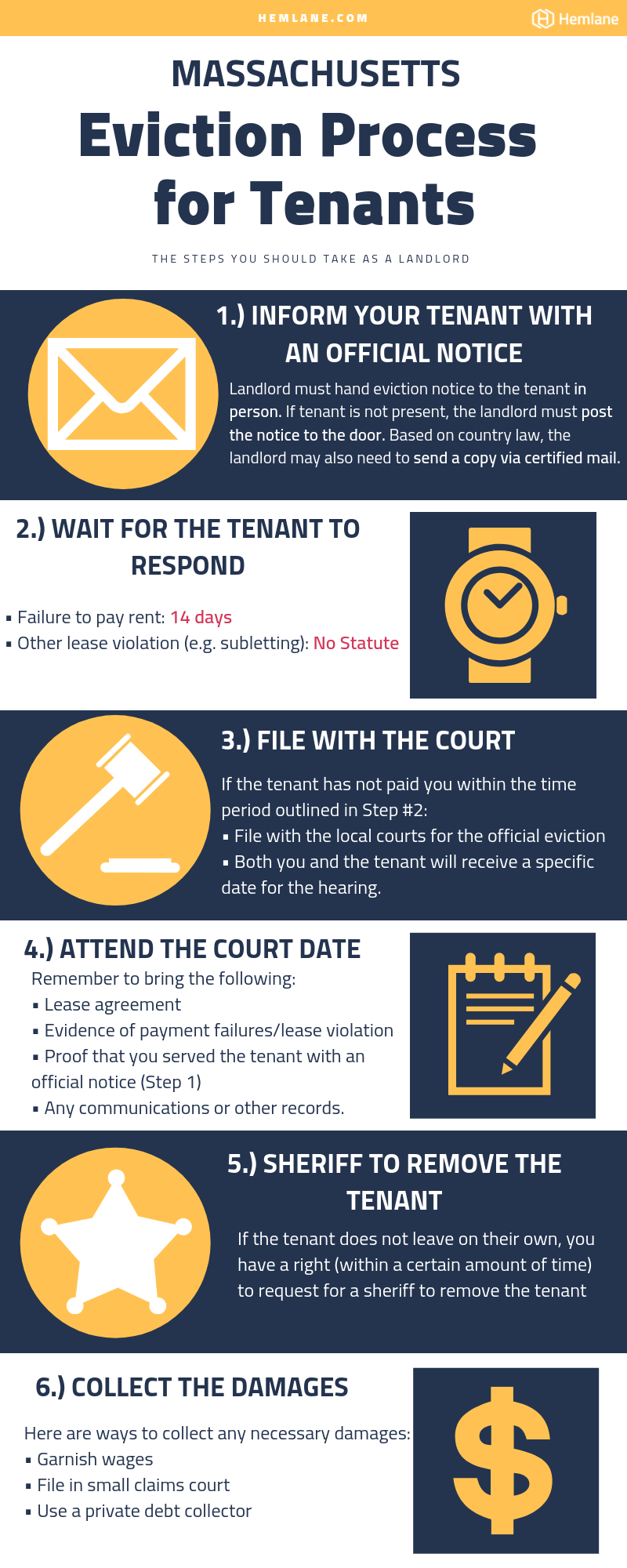 When it is failure to pay rent, the tenant has 14 days to pay you otherwise the eviction notice can be filed with the courts.
When there is another lease violation (e.g. subletting), there is no statute regarding time given to resolve the violation from the point that the eviction notice is served. Otherwise the eviction notice will be filed with the courts.
---
For more information on Massachusetts Landlord Tenant laws please visit their website here.
As the situation with COVID-19 continues to evolve, the moratorium on foreclosures and evictions will continue to impact millions of rental properties across the country. For the most up to date information on this legislation, as well as to see if your city or county has additional directives in place, please contact your local representative.
Finding and Selecting the Best Tenant
For a $2,000 monthly rental: 1. You lose $1,000 if you have your rental on the market for 15 additional days. 2. You lose $1,000+ for evictions. Learn how to quickly find and select a qualified tenant while following the law.