Wisconsin Tenant-Landlord Law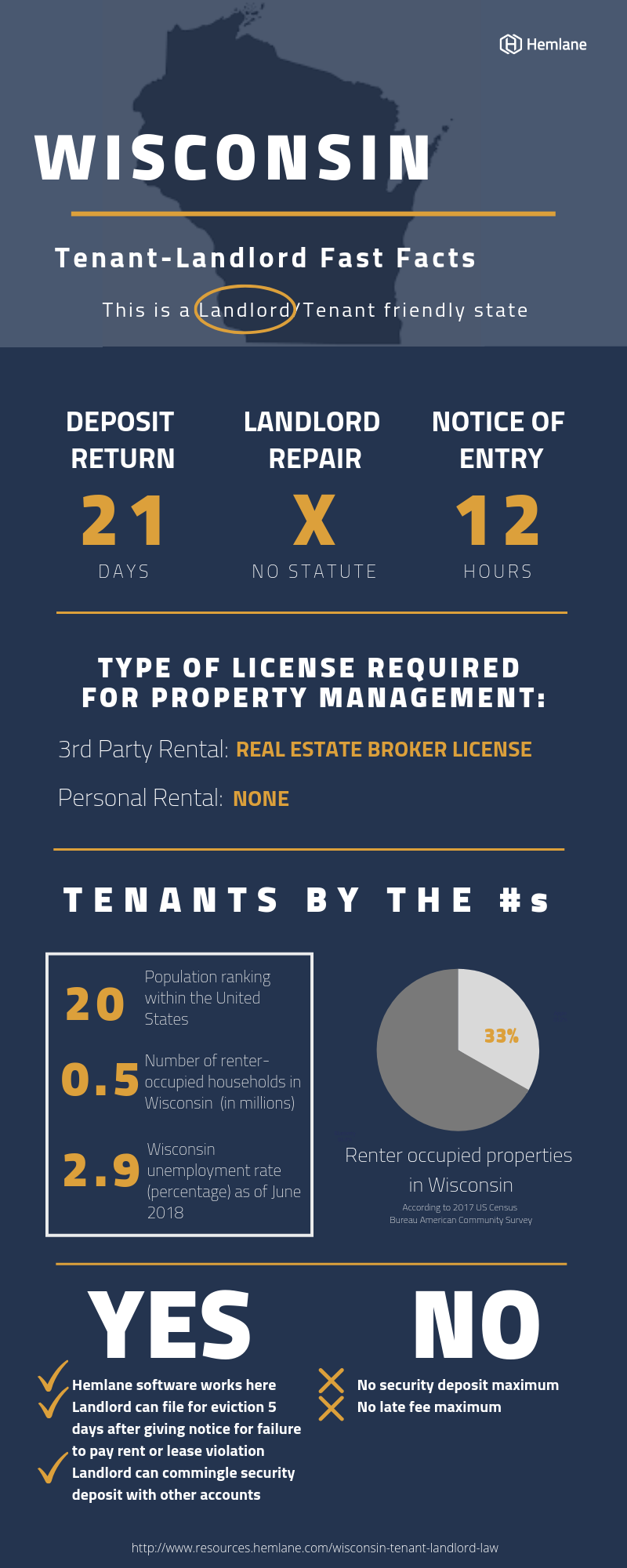 ---
Fair Housing
The Fair Housing Act was created in order to ensure that everyone is treated equally during the housing process. It protects tenants from discrimination when seraching for a rental property. At the federal level the Fair Housing Act protects the following classes…
Race
Color
National Origin
Religion
Sex
Familial Status
Disability
Learn about fair housing at the federal level here /landlord-must-know-fair-housing/
In addition to federal fair housing laws, Wisconsin prohibits discrimination on the basis of...
Ancestry
Marital status
Age
Sexual orientation
Status as a victim of domestic abuse, sexual assault, or stalking
Lawful source of income
(W.S.A § 106.50)
---
Security Deposits
Maximum amount landlord can charge: No maximum.
Returning the security deposit: Landlord has 21 days to return the security deposit. ( Civ. Code §§ 134.06 (2))
Bank account requirements: No law requiring landlords to keep security deposits separate of other funds.
Security deposit interest: Landlords are not required to pay any interest on security deposits. (source p.4)
Receipt of Deposit: Landlord is required to provide a written receipt of the deposit if it is paid in cash or request by tenant. (Civ. Code §§ 134.06(4))
---
Rent and Late Fees
Rent increase notice: At least 28 days' notice must be given except all agricultural from year-to-year require at least 90 days notice. (Civ. Code 704.19 (3))
Late Fees: Landlord may charge a late fee if the tenant does not pay within 5 days that rent is due. ( Civ. Code 704.90 (4b) (a))
Late Fees Maximum: A late fee of $20 or 20% of the monthly rent is presumed reasonable. (Civ. Code704.90 (4b) (b))
---
Notices and Entry
Termination of month-to-month lease: 28 days (Civ. Code §§ 704.19(3))
Termination of any other rent: Notice to the rent paying period is sufficient.
Required notice before entry: Unless otherwise agreed between the tenant and landlord the required amount of time is 12 hours. (Civ. Code §§ 704.05(2)
Entry during tenants absence: If the landlord believes entry is necessary to preserve or protect the premise, the landlord may enter without notice. ( Civ. Code §§ 704.05(2))
Tenant allowed to make repairs and deduct rent: No law
Pre-existing damages: Landlord must provide a list of physical damages or defects within 30 days of receiving the request from the tenants.( Civ. Code §§ 134.06(1)(b))
---
Disclosures
Information check-in sheet: Landlord must provide a new tenant a check-in inspection sheet to be completed within 7 days. (§§ 704.04(8)
Check-in procedures: Tenants have 7 days to inspect the property and report any previous damages.
Abandoned personal property: Landlord may dispose of abandoned property. (§§ 704.05(5)(a)).
---
Eviction Laws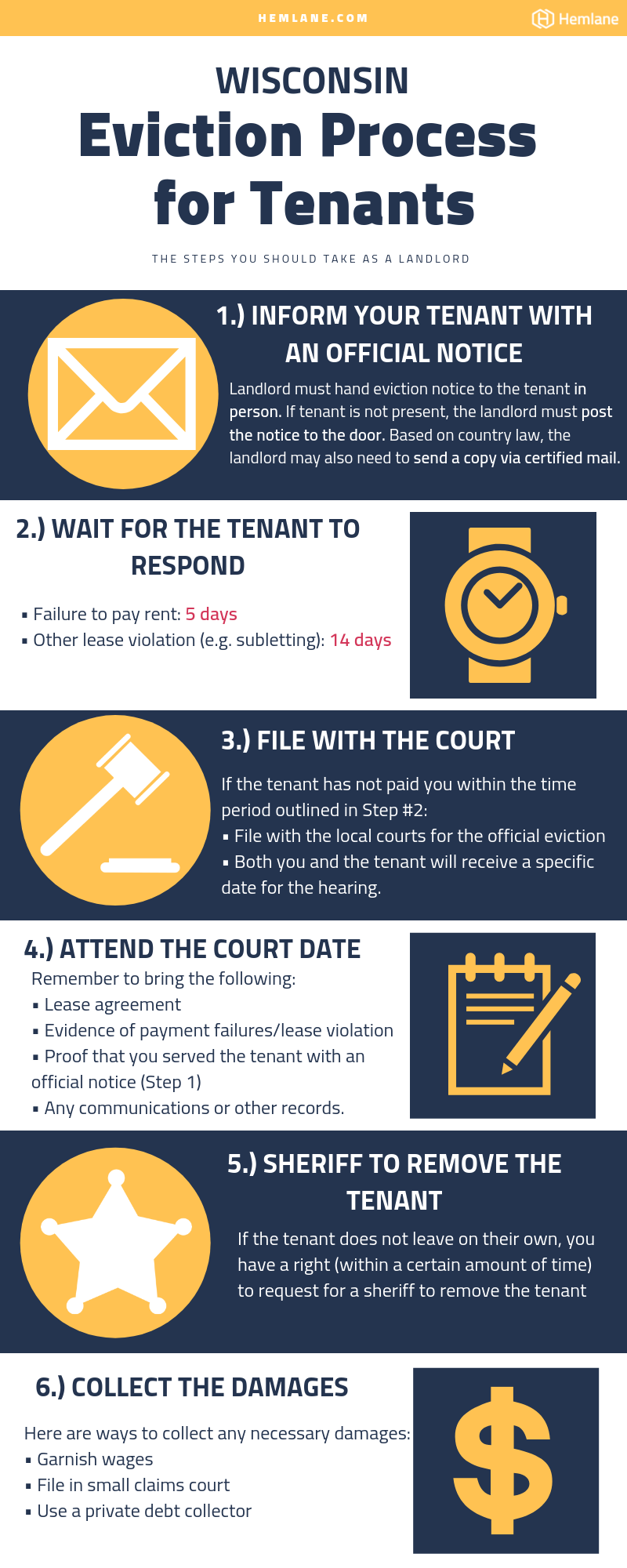 When it is failure to pay rent, the tenant has 5 days to pay you otherwise the eviction notice can be filed with the courts.
When there is another lease violation (e.g. subletting), the tenant has 14 days to resolve the violation from the point that the eviction notice is served. Otherwise the eviction notice will be filed with the courts.
For more information on Wisconsin Landlord Tenant laws please visit their website here.
As the situation with COVID-19 continues to evolve, the moratorium on foreclosures and evictions will continue to impact millions of rental properties across the country. For the most up to date information on this legislation, as well as to see if your city or county has additional directives in place, please contact your local representative.
Finding and Selecting the Best Tenant
For a $2,000 monthly rental: 1. You lose $1,000 if you have your rental on the market for 15 additional days. 2. You lose $1,000+ for evictions. Learn how to quickly find and select a qualified tenant while following the law.