Virginia Tenant-Landlord Law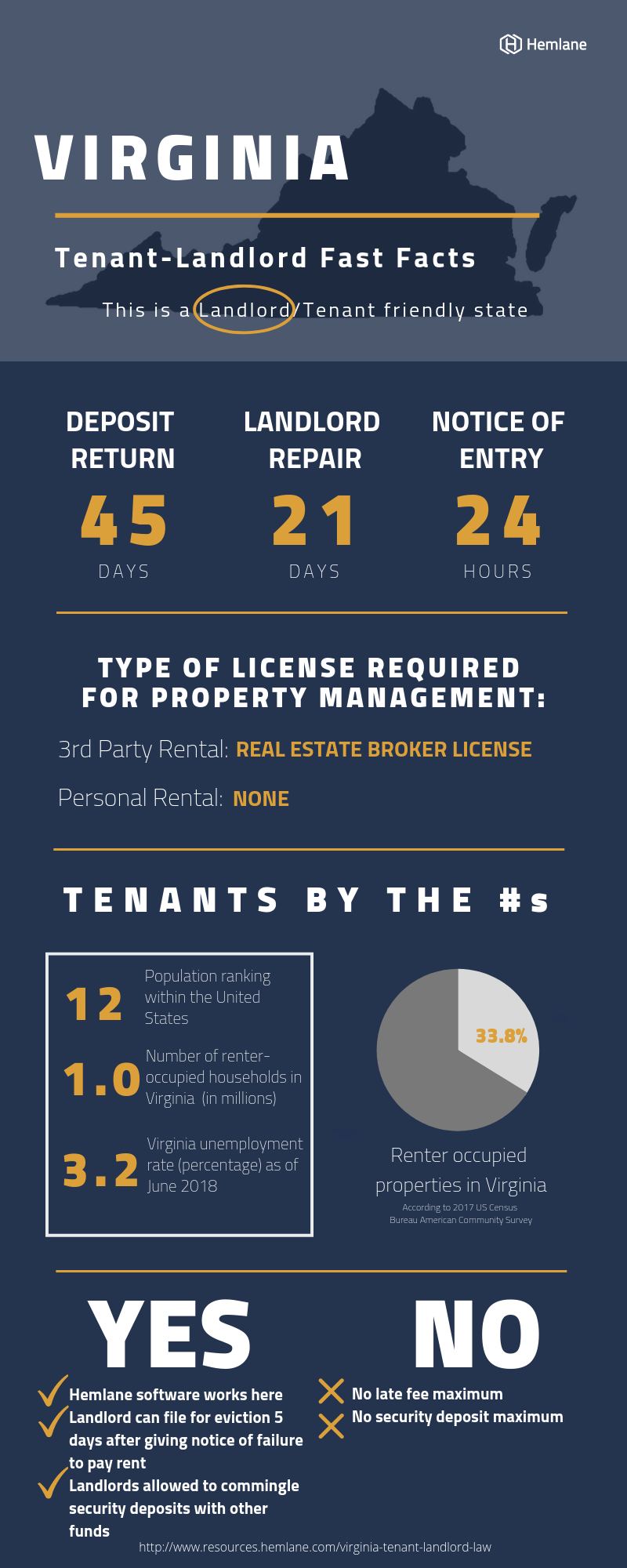 ---
Fair Housing
The Fair Housing Act was created in order to ensure that everyone is treated equally during the housing process. It protects tenants from discrimination when seraching for a rental property. At the federal level the Fair Housing Act protects the following classes:
Race
Color
National Origin
Religion
Sex
Familial Status
Disability
Learn about fair housing at the federal level here
In addition to federal fair housing laws, Virginia prohibits discrimination on the basis of elderliness (55 or older) (VA. Code Ann. §§ 36-96.1, et. seq.).
Virginia law also states that landlords must permit tenants to make modifications to the property at their own expense, such as installing a wheelchair ramp.
---
Screening
For landlords that own more than four units, or 10% of four or more units, new legislation on Feb 1, 2021 prohibits the use of negative credit information arising from the COVID-19 pandemic against applicants for tenancy.
---
Security Deposits
In Virginia, landlords cannot charge more than 2 month's rent for a security deposit, if they choose to charge a security deposit (§ 55-248.15:1(A)).
Landlords must return the security deposit to the tenant within 45 days of the end of the lease (§ 55-248.15:1(A)). A landlord can return all or only part of the deposit, which may be due to damage other than normal wear and tear, late rent, breaking lease, or unpaid utility bills. If a landlord is going to withhold any part of the security deposit, he or she must inspect the unit within 5 days of the tenant moving out and provide the tenant with a detailed list for what needs to be fixed. The tenant has the right to be present at this inspection.
In addition, there is no statute stating whether or not landlords must keep separate accounts for security deposits.
---
Rent and Late Fees
Landlords can, but are not required to, charge application fees for rentals. This fee cannot be more than $50. If an applicant gives a fee and then does not choose to live there, the landlord must refund the applicant within 20 days. The only reason he or she can charge a non-refundable application fee would be to cover any tenant screening costs (§ 55-248.6:1).
Written rental agreements are only required when the lease is longer than 12 months. The rental agreement must lay out the terms of the lease, and a signed copy must be given to the tenant within 30 days of signing. Terms of the lease could include anything from the rental agreement, security deposits, notices, repairs, etc.
There is no statute in the state of Virginia about requiring a late fee, but if a landlord does require one, it should be laid out in the rental agreement.
---
Notices and Entry
In Virginia, landlords must give notice for termination of lease based on what type of lease it is. For year to year lease, landlords must give tenants at least a 3 month's notice for termination of lease. For month to month, landlords must give tenants at least 30 days notice for termination of lease (§ 55-222).
Landlords may terminate a lease due to nonpayment of rent, but they first must give a 5 day notice to pay or quit (§ 55-225).
Landlords may also terminate a lease due to a tenant violating the lease. Landlords must give tenants 21 days to remedy (fix whatever they violated) or 30 or more days to quit (§ 55-248.31(A)).
Landlords must give tenants a 24 hour notice before entering their unit (§ 55-248.18(A)). This includes but is not limited to repairs and non-emergency entry.
As stated above, landlords must give tenants at least a 24 hour notice before entering to make a repair.
Landlords are expected to keep the unit/building in habitable condition, meaning making necessary repairs to ensure the safety of his/her tenants. This includes keeping heating, air conditioning, running (hot and cold) water, facilities, and appliances in good condition. If a tenant would like to have something repaired, he/she must submit a written notice. The landlord then must make the repair in 21 days or less, or the tenant can terminate their lease. If the tenant does terminate the lease, they must give their landlord a 30 day notice. (§ 55-225.3).
---
Disclosures
Rights are granted to victims of family, domestic or criminal sexual abuse, and they are allowed early termination of their lease (§ 55-225.16). This must be done with an order of protection.
---
Eviction Laws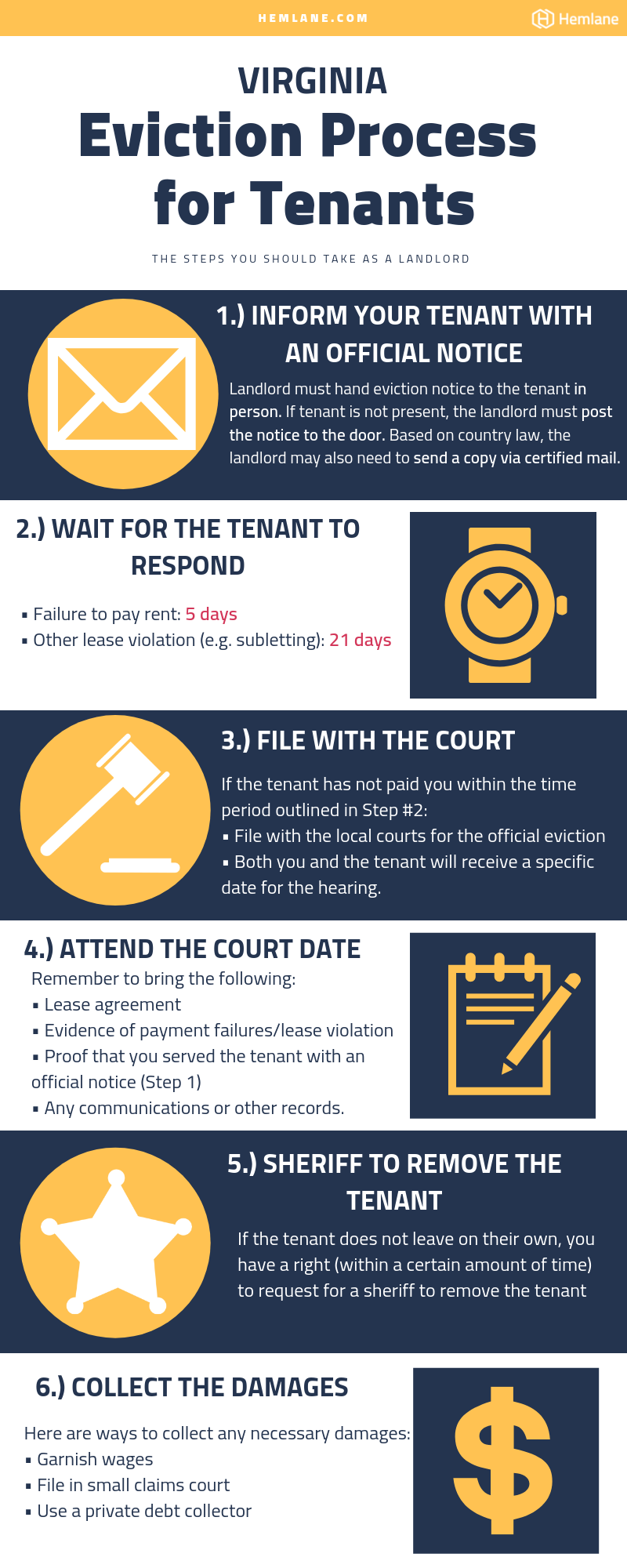 When it is failure to pay rent, the tenant has 5 days to pay you otherwise the eviction notice can be filed with the courts.
When there is another lease violation (e.g. subletting), the tenant has 21 days to resolve the violation from the point that the eviction notice is served. Otherwise the eviction notice will be filed with the courts.
As the situation with COVID-19 continues to evolve, the moratorium on foreclosures and evictions will continue to impact millions of rental properties across the country. For the most up to date information on this legislation, as well as to see if your city or county has additional directives in place, please contact your local representative.
Finding and Selecting the Best Tenant
For a $2,000 monthly rental: 1. You lose $1,000 if you have your rental on the market for 15 additional days. 2. You lose $1,000+ for evictions. Learn how to quickly find and select a qualified tenant while following the law.