Product Update: Prospective Tenants - your shortcut to stress-free tenant selection!
We're rolling out a new way for you to view your prospective tenants!
You know that feeling when you're drowning in a sea of tenant applications, trying to figure out who's the perfect fit for your property? That is but a distant memory with our new update! Say hello to our new and improved Prospective Tenant's page - your shortcut to stress-free tenant selection!
Why Should You Be Pumped About the Prospective Tenants Upgrade?
Save Time: Spend less time sifting through applications and more time doing what you love.
Peace of Mind: Make decisions confidently, armed with comprehensive information and smart recommendations.
Happy Tenants: Find the perfect match, creating a happy living space for your new tenants!
What's in store for you?
Comprehensive credit insights and more from a trusted source!
Ever wanted to peek into your applicants' credit history without sifting through endless paperwork? Now you can! With Hemlane's Prospective Tenants, you can check your applicant's credit history with just a click! With a report sent from TransUnion, you'll not only have access to their credit report, but also their eviction report, criminal report, and income insights! Take the guesswork out and get clear insights to help you choose your next tenant wisely.
Co-Applicants made crystal clear
Got a property built for multiple tenants? No worries! Your view now clearly shows you a list of co-applicants, giving you the complete picture of who you're welcoming into your property.
Tenant Application Updates
Ever wondered where your applicants are with their applications? Wonder no more! On our Prospective Tenants, you'll never miss a beat in the tenant application process. As applicants flood in, you can easily keep track of who is moving forward and who might need a little nudge to complete their application!
Find time to schedule showings
We know that finding the right tenant involves more than just a glance at paperwork – it's about creating a connection, understanding their needs, and envisioning them in your property. That's why with the new and improved Prospective Tenant, we've made it easier for you to schedule a showing with your next tenant effortlessly!
Smart Recommendations
Have a sea of applicants you need to look over? Not a problem, simplify this process by focusing on those who pass the income and credit criteria you've set up. By crunching the data in the application and tenant screening, we'll provide you with a recommendation on which applicants meet your property's requirement. You'll spot your next tenant in no time with our new Prospective Tenant's page!
Chat It Up with Ease
Communication is king. Have questions or need more details about your applicant? We've got you covered! Through the new Prospective Tenants, you can easily reach out to your applicants, fostering a clear and friendly communication. It's hassle-free and gets you one step closer to your next tenant!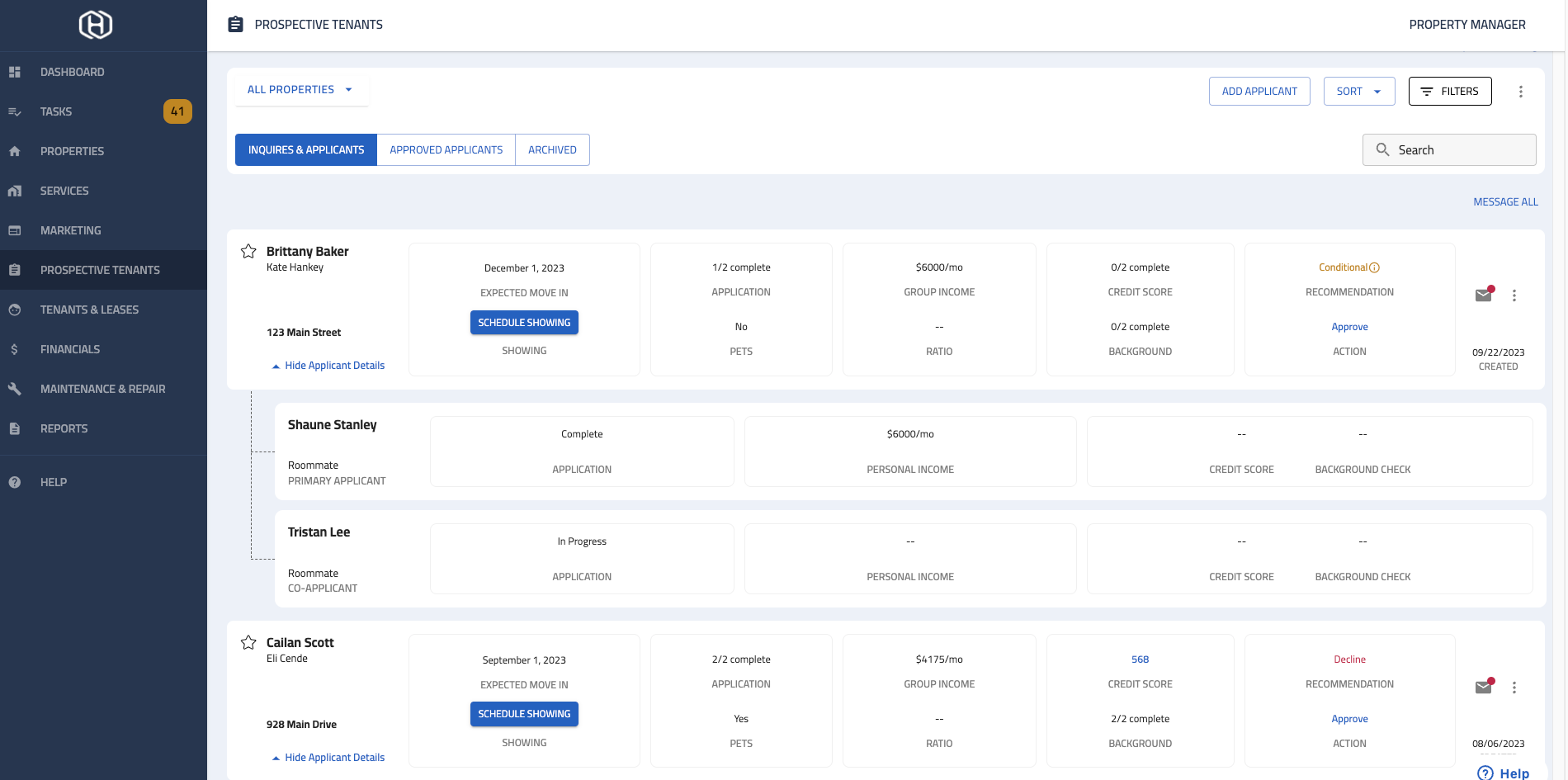 Finding the right tenant should be exciting, not exhausting. With the new Prospective Tenants page by your side, you'll see that finding your next tenant can be simpler, smarter, and more exciting!
Are you ready to find your dream tenant? Try Hemlane today and get started!
Finding and Selecting the Best Tenant
For a $2,000 monthly rental: 1. You lose $1,000 if you have your rental on the market for 15 additional days. 2. You lose $1,000+ for evictions. Learn how to quickly find and select a qualified tenant while following the law.