Pennsylvania Landlord Tenant Rental Laws & Rights for 2023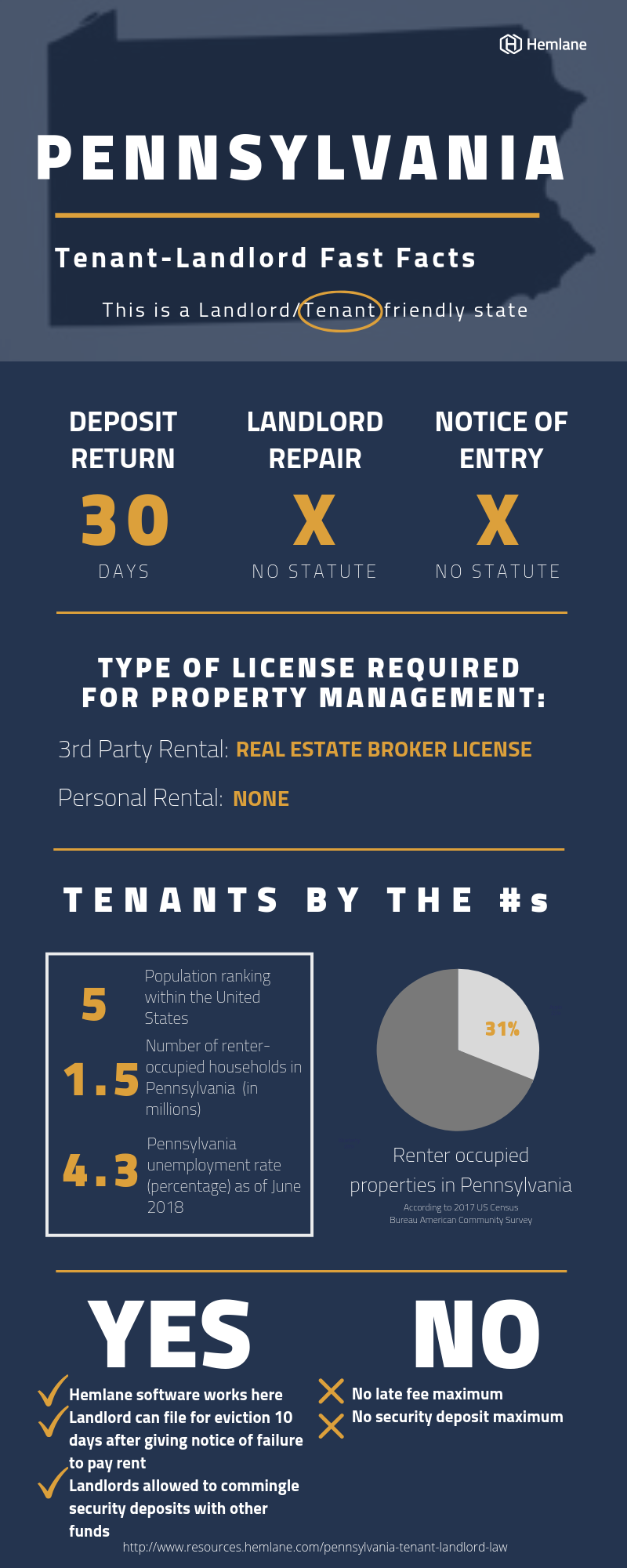 ---
Fair Housing
The Fair Housing Act was created in order to ensure that everyone is treated equally during the housing process. It protects tenants from discrimination when seraching for a rental property. At the federal level the Fair Housing Act protects the following classes…
Race
Color
National Origin
Religion
Sex
Familial Status
Disability
Learn about fair housing at the federal level here /landlord-must-know-fair-housing/
The Pennsylvania Human Relations Act prohibits discrimination in all housing transactions on the basis of race, color, sex, religion, national origin,
Ancestry
Age (40 and above)
Pregnancy
Familial status (families with children under age 18)
Handicap or disability
In addition, the act protects the use of a guide or support animal due to blindness, deafness or physical disability or because the user is a handler or trainer of such animals.
---
Security Deposits
The collection of security deposits in Pennsylvania isn't required, but most landlords require them to prove a tenant's financial stability and guarantee a payment for damaged property
In Pennsylvania, the landlord isn't allowed to charge more than two month's rent from the tenant for the first year of renting and no more than one month's during subsequent years. (68 P.S. §§ 250.511a)
After a lease has finished or been terminated, the landlord has 30 days to return the full or partial portion of the deposit back. (68 P.S. §§ 250.512)

A landlord is allowed to withhold partial payment if there is damage in excess of normal wear and tear, unpaid rent, or a violation of the lease.

These deductions must be explained to the tenant within 30 days in a written, itemized list. (68 P.S. §§ 250.512)

If the landlord fails to return the payment, he/she may be liable to pay the tenant double the amount of the deposit they are owed plus interest (68 P.S. §§ 250.512(c))

In Pennsylvania, a landlord is allowed to commingle with his/her personal assets if it is in a federally or state-regulated institution and the tenant must be notified in writing of its location. (68 P.S. §§ 250.511b)

If a tenant is in a rental property for more than 2 years, they are entitled to interest on the security deposit (68 P.S. §§ 250.511b(b))
---
Rent and Late fees
There is no rent control or limit in Pennsylvania, so the landlord is allowed to charge any agreed upon amount.
There are no statutes on how or when (beginning of the month or the end) rent is to be paid.
If there is an increase in rent, the tenant must be notified 30 days prior to being in effect.
The tenant is allowed to withhold rent if the property is deemed uninhabitable by a government agency or department. (68 P.S. §§ 250.206)
There is no statutes regarding late fees in Pennsylvania, but most landlords do charge them.

If a tenant hasn't paid rent 10 days after its due date, a landlord is allowed to declare a lease violation and require an appropriate late fee.
---
Notices and Entry
There is no statute in Pennsylvania for a required amount of time prior to entry to make repairs.
If a lease agreement is a year or less, the landlord must notify a tenant 15 days in advance to terminating tenancy early (68 P.S. §§ 250.501(b))

If more than a year, a landlord has 30 days to notify a tenant to terminate a lease early. (68 P.S. §§ 250.501(b))
If on a month to month lease, the landlord has 15 days to notify a tenant to terminate a lease early. (68 P.S. §§ 250.501(b))

If the tenant wishes to terminate the lease early, they have to give a notice period of 15 days if lease for less than one year or periodic, 30 days if lease for one year or more.
---
Disclosures
If there are lead paint hazards on the property, a landlord is federally required to disclose them to the tenant along with an information pamphlet

The same goes for mold presence.

There are no statutes regarding domestic violence situations.
---
Eviction Laws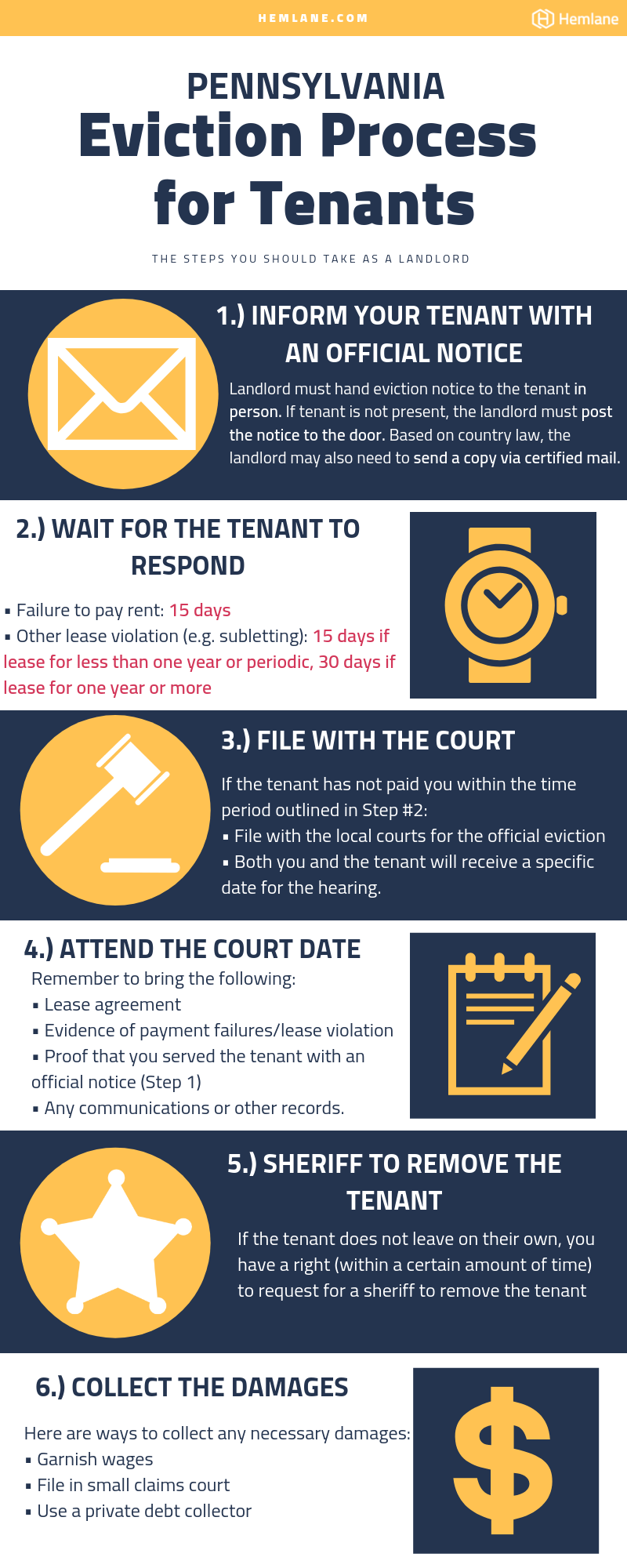 When it is failure to pay rent, the tenant has 15 days to pay you otherwise the eviction notice can be filed with the courts.
When there is another lease violation (e.g. subletting), the tenant has 15 days to resolve the violation from the point that the eviction notice is served if the lease is for less that one year, or periodic. The tenant has 30 days if the lease is for one year or more. Otherwise the eviction notice will be filed with the courts.
For more information on Pennsylvania Landlord Tenant laws please visit their website here.
As the situation with COVID-19 continues to evolve, the moratorium on foreclosures and evictions will continue to impact millions of rental properties across the country. For the most up to date information on this legislation, as well as to see if your city or county has additional directives in place, please contact your local representative.
Finding and Selecting the Best Tenant
For a $2,000 monthly rental: 1. You lose $1,000 if you have your rental on the market for 15 additional days. 2. You lose $1,000+ for evictions. Learn how to quickly find and select a qualified tenant while following the law.