Oregon Tenant-Landlord Law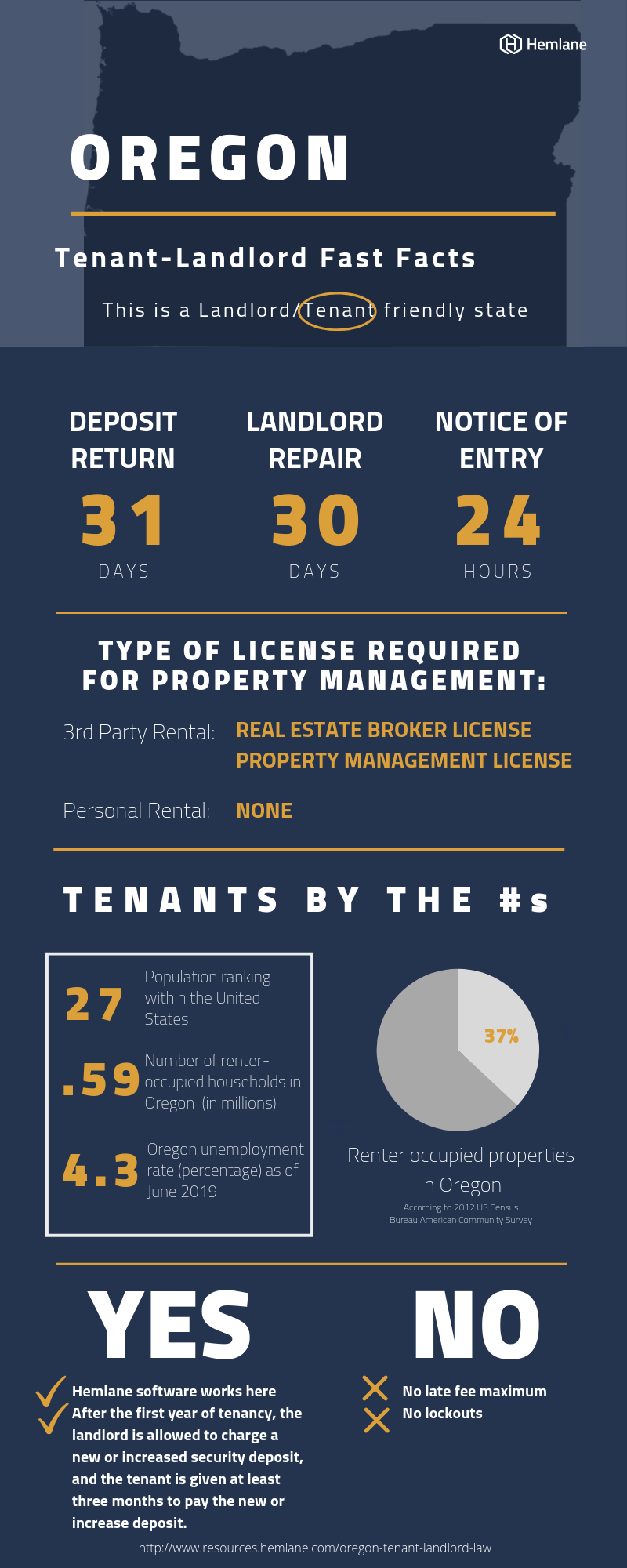 ---
Fair Housing
The Fair Housing Act was created in order to ensure that everyone is treated equally during the housing process. It protects tenants from discrimination when seraching for a rental property. At the federal level the Fair Housing Act protects against discriminating based on the following:
Race
Color
National Origin
Religion
Sex
Familial Status
Disability
Learn about fair housing at the federal level here.
Oregon protects the same categories as federal law, in addition to prohibiting discrimination on the basis of:
Marital status
Source of income (section 8 vouchers, agency rent checks, etc.)
Sexual orientation & gender identity
(OR ST § 659A.421).
Security Deposits
Security deposit maximum: No limit on amount landlord can charge for security deposit. After 1 year of tenancy, the landlord can charge a new or increased security deposit.(Or. Rev. Stat. § 90.300 (5)(a))
Security deposit interest: No law.
Keeping security in separate bank account: No law.
Returning the security deposit: Landlord has 31 days to return the deposit to the tenant. (Or. Rev. Stat. § 90.300 (4))
Receipt of deposit: Landlord is required to provide the tenant with a receipt of any security deposit the tenant pays. (Or. Rev. Stat. § 90.300 (2)(a))
Failure to return deposit: If the landlord fails to return any amount of the security deposit within 31 days after the termination of the rental agreement, the tenant may collect twice the amount deposited. ( Or. Rev. Stat. § 90.300 (16))
---
Rent and Late Fees
---
Notices and Entry
Notice to terminate yearly lease with no end date: 60 days or more, in writing. (Or. Rev. Stat. § 91.060)
Notice to terminate week-to-week lease for first year occupancy: the landlord or the tenant may terminate the tenancy by a written notice given to the other at least 10 days before the termination date specified in the notice. (Or. Rev. Stat. § 90.427)
Notice to terminate week-to-week lease: No statute.
Notice to terminate month-to-month lease: If the tenant has lived in the dwelling unit for more than a year then 60 days notice must be given. If the tenant has lived in the dwelling unit for less than a year 30 days written ntoice is required. (Or. Rev. Stat. § 90.427)
Notice to terminate tenancy at will: 7 days, or 10 days if the tenant has lived there for more than one year. (Or. Rev. Stat. § 91.050)
Notice to terminate week-to-week lease for non-payment: Tenant has 72 hours to pay rent. (Or. Rev. Stat. § 90.394(1))
Required notice before entry: Landlord must provide 24 hour notice before entry along with a reason for entry, date and time, and names of persons who enter. (Or. Rev. Stat. § 90.322(b)).
Entry allowed for showings: Landlord and tenant may agree upon entrance without notice during reasonable times. (Or. Rev. Stat. § 90.322(d))
Emergency entry without notice: Landlord may enter without notice for emergency purposes provided they give the tenant actual notice within 24 hours after the entry, the notice shall include the fact of the entry, the date and time of the entry, the nature of the emergency and the names of the persons who entered. (Or. Rev. Stat. § 90.322(1)(b))
Entry allowed during extended absence: Landlord may enter premise reasonably if the tenant is gone for more than 7 days. (Or. Rev. Stat. § 90.340)
Lockouts or utility shut-offs allowed: No, the tenant may obtain injunctive relief to recover possession or may terminate the rental agreement and recover an amount up to two months' periodic rent or twice the actual damages sustained by the tenant, whichever is greater. (Or. Rev. Stat. § 90.375)
---
Disclosures
Disclosing authorized personel allowed on property: Landlord must disclose the names and addresses of anyone authorized to manage the property. (Or. Rev. Stat. § 90.305)
Providing a copy of the lease: Landlord must provide tenant with any written rental agreements. (Or. Rev. Stat. § 90.220(3))
100 year old floodplain: If the property is located in a 100 year old floodplain the landlord must provide notice in the rental agreement. (Or. Rev. Stat. §§ 90.228)
---
Eviction Laws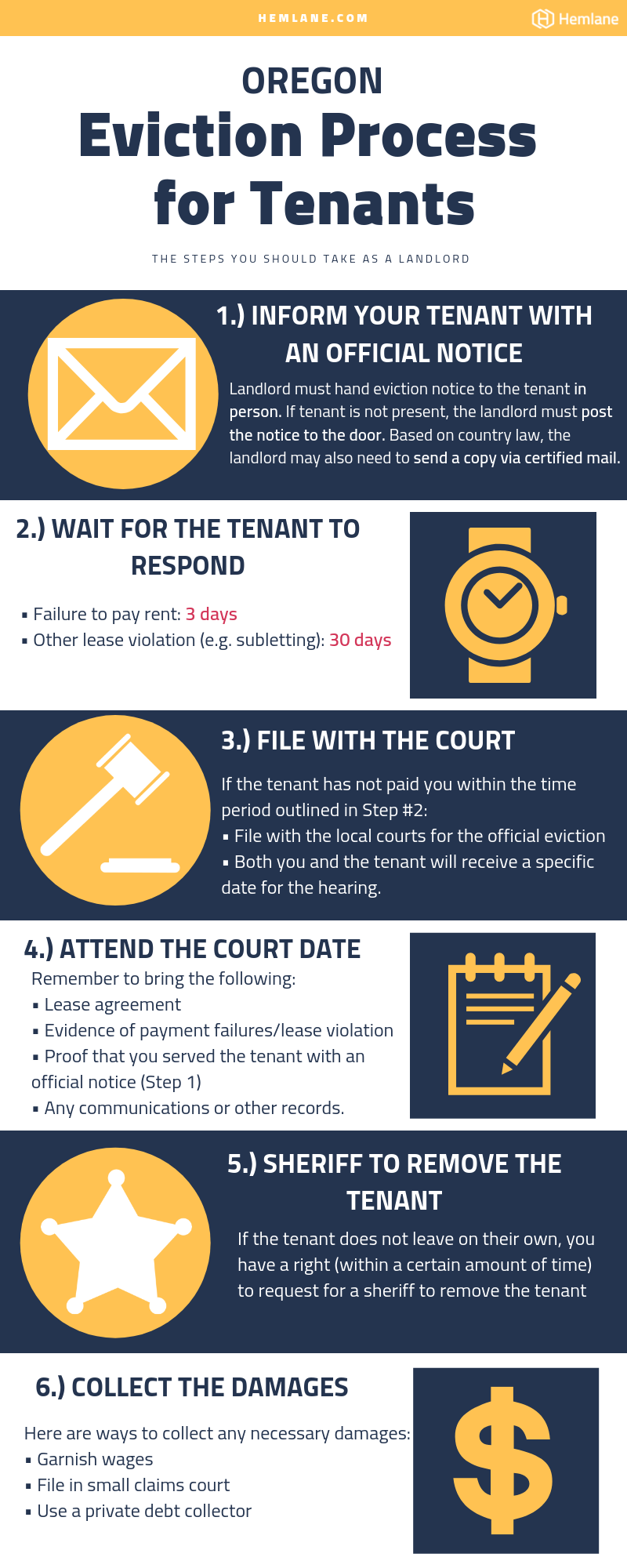 When it is failure to pay rent, the tenant has 3 days to pay you otherwise the eviction notice can be filed with the courts.
When there is another lease violation (e.g. subletting), the tenant has 30 days to resolve the violation from the point that the eviction notice is served. Otherwise the eviction notice will be filed with the courts.If the tenant violated another lease agreement within the last six months, the landlord must only provide a 10 day written notice.
Small claims court limit: $10,000 across Oregon. Some county's have different limits, these county's include Clatsop which has a $7,5000 limit, Harney which has a $3,5000 limit, and Malheur which has a $5,0000 limit.
For more information on Oregon Landlord Tenant laws please visit their website here.
---
City and County Restrictions
For other cities and counties, there may be a set a cap on security deposits and its best to check with your local rent board.
For example, in Portland, there are additional restrictions on security deposits. See here for up to date information. Additionally, Portland has a Rental Services Office that you can call or email for technical assistance and information on landlord-tenant laws and policy.
As the situation with COVID-19 continues to evolve, the moratorium on foreclosures and evictions will continue to impact millions of rental properties across the country. For the most up to date information on this legislation, as well as to see if your city or county has additional directives in place, please contact your local representative.
Finding and Selecting the Best Tenant
For a $2,000 monthly rental: 1. You lose $1,000 if you have your rental on the market for 15 additional days. 2. You lose $1,000+ for evictions. Learn how to quickly find and select a qualified tenant while following the law.