Real Estate's 'Inception': NAR's Plot Twist & Cali's Script Rewrite 🎬🏡
Welcome to the week of Thanksgiving. This month's newsletter is a quick 3-minute and 55-second read, giving you enough time to prep, effortlessly staying ahead of the curve, and on top of the RE drama.
The Hemlane Brief 📊
Must know data at a glance.
↔ 5.25% - 5.50%
Current interest rates
↔ 3.7%
Current inflation rate
↓ 7.5%
30-year fixed-rate mortgage
🚨 What's next: Nothing is making the Feds happy, least of all the current inflation rate as their goal of wrangling it down to 2% isn't expected to happen until 2026. In the meantime, housing experts and the stock market are hopeful the Fed is done with rate hikes for the near future, particularly after October's data indicated cooling inflation.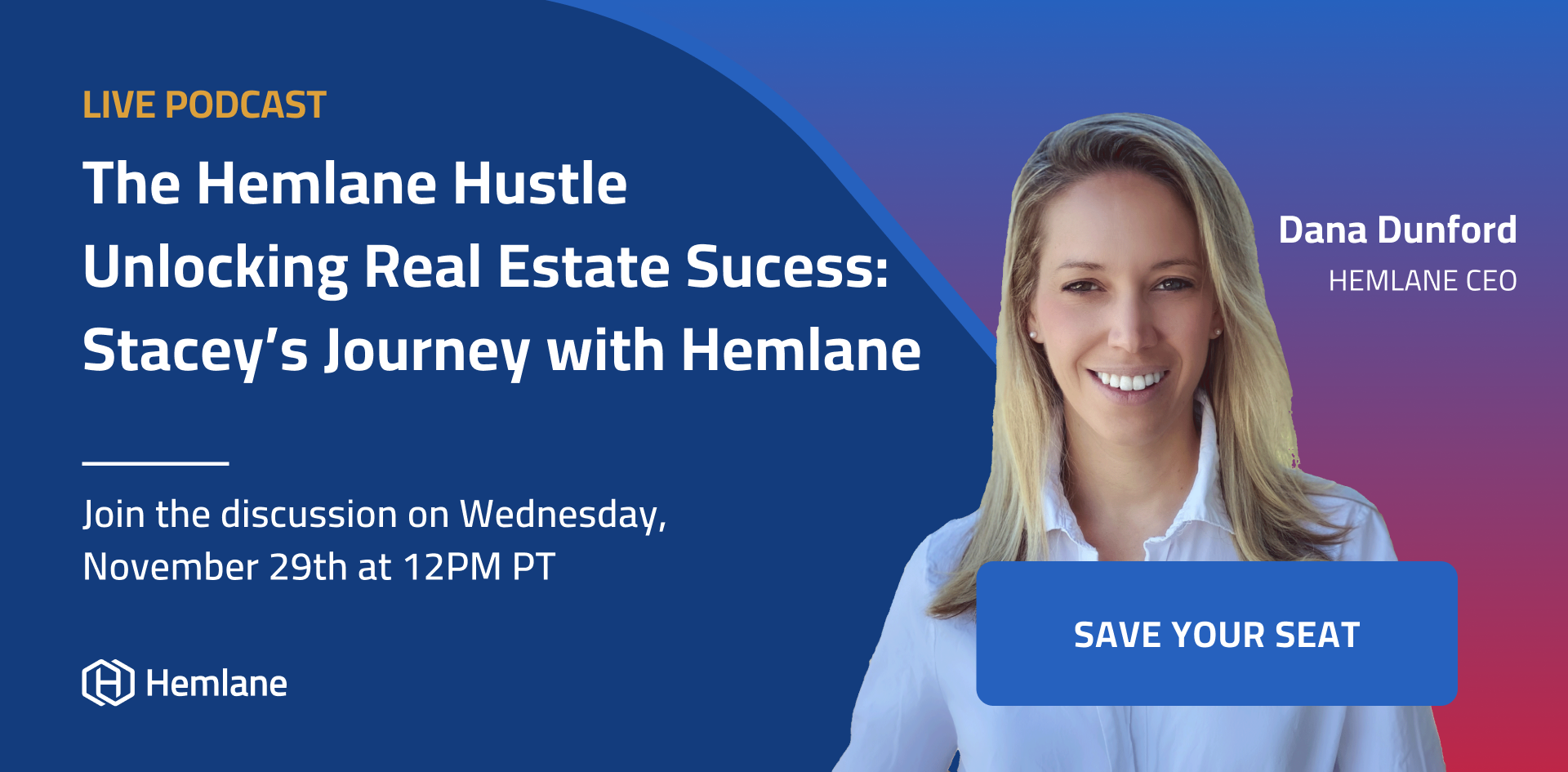 What's Trending: The Burnett vs. NAR Verdict ⚖️
The ripple effects are just beginning.
It's getting closer to Thanksgiving yet the National Association of Realtors (NAR) is feeling anything but grateful.
🔎 In the first of two class-action lawsuits, a Federal jury in Missouri concluded that NAR and Keller-Williams conspired to artificially inflate commissions, awarding over $5.3 billion in damages to the sellers of over 260,000 homes in Missouri, Illinois, and Kansas. The issue at heart? That pesky 6% of the sales proceeds that the seller's and buyer's brokers split, and directly tied to how homes are listed for sale via the MLS.
Sellers, the plaintiffs argue, had no choice but to list their homes on an MLS. This, in turn, meant they were forced to agree to the rules of the databases — including paying exorbitant commissions to buyers' agents who might choose to pass over their properties if they didn't.
🚩 The fall-out: NAR insists that while nothing will change in the short-term, the ripple effects are already happening.
The Justice Department - the only entity that can implement industry-wide changes - is also scrutinizing the industry's commission structure.
Immediately after the verdict NAR CEO Bob Goldberg was ousted, although it may have been for other reasons.
Shares of Zillow and other real estate companies also dropped following the news.
Similar lawsuits are popping up, including this one in New York.
👉 Takeaways: Real estate agents are more concerned about bigger things like a slow home sales market and changes to the commission structure may take years.
Inexperienced agents, or those who work mostly with buyers, are considered to be at risk. KW estimates 1.6 million agents could lose their jobs - and may be forced into alternate professions like this lawyer turned pet psychic.
Home sellers and buyers, meanwhile, are making it clear that they are fed up with a status quo they did not ask for.
🚨 The one thing everyone can agree on: Change is coming to the industry.
Looming Legislation: Cali Signs in New Laws ✍️
Supporters are hoping the new laws will bring down rents and home prices.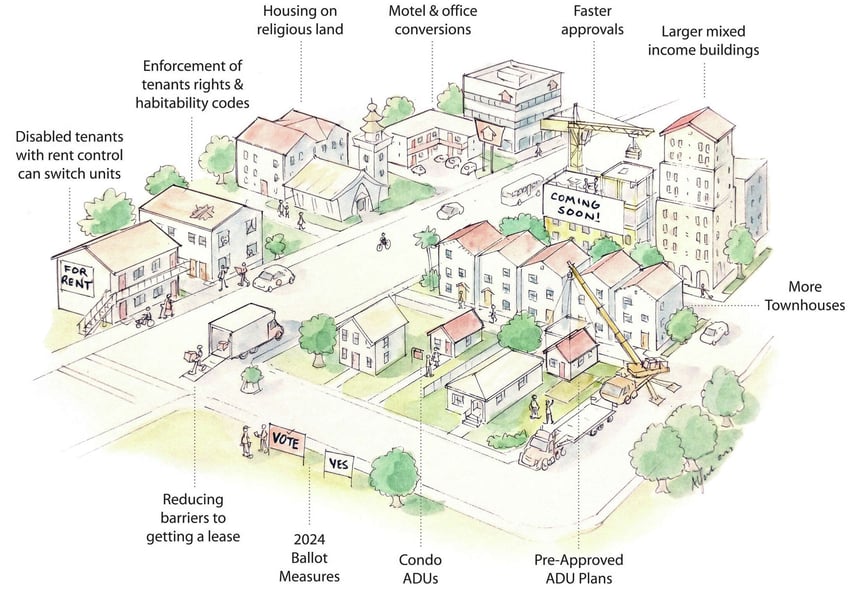 San Francisco has identified what they need to speed up their downtown recovery: more legislation.
🔎 Recently California Gov. Gavin Newsom signed 60 housing bills into law, including some that followed New York's example. Key changes include:
Security deposits: Today - You can charge up to two months' rent for unfurnished and up to three months for furnished rentals. Starting July 2024 - Following New York's example, you can no longer charge more than one month's rent for the security deposit.
Tenant mobility devices: Today - Landlords set their own rules in regards to e-bikes and e-scooters, which have been linked to deadly fires. Starting January 2024 - E-bikes and e-scooters can be stored in the tenant's unit as long as the batteries meet CPSC or EU standards. Insurance or storing the bike outside of the building are also options.
👉 Takeaway: As the housing market continues to push aspiring buyers towards renting, and rents continue to rise, there will likely be a growing focus on this sector.
Rental Market Outlook 🔮
Landlord concessions return in some markets.

A year-long rental rollercoaster: Recent Yardi data showed that the average U.S. multifamily rent posted a 0.8 percent year-over-year increase to $1,722 - a $6 drop from the August rate. It also marks the lowest growth since the global financial crisis in 2009, leading some landlords to offer concessions.
Like having a teenager in the house. The Airbnb 'tenant from hell' finally left their Cali abode a full 570 days later without paying the cleaning fee, rent, or even doing the dishes.
Down but not out: In a year of slow rent growth, high-interest rates, and labor shortages the most successful multifamily owners are finding savings in centralizing their operations.
Trends We're Watching 🔎
Dropping soon: Year-end predictions and new tax rules.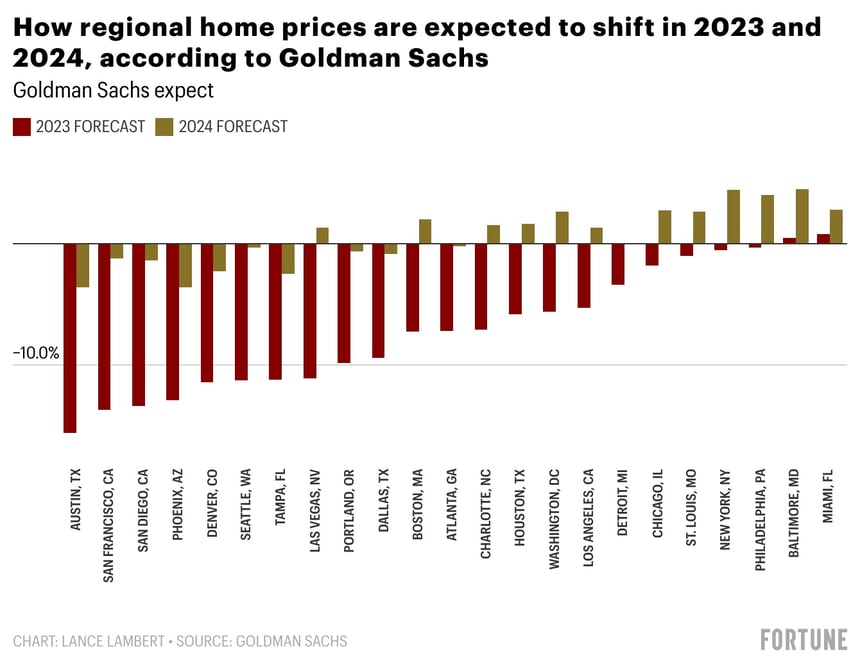 📬 Sign up for this newsletter & share it with a friend or colleague here.
Start Your Free 14-day Hemlane trial today!
Finding and Selecting the Best Tenant
For a $2,000 monthly rental: 1. You lose $1,000 if you have your rental on the market for 15 additional days. 2. You lose $1,000+ for evictions. Learn how to quickly find and select a qualified tenant while following the law.