New Hampshire Tenant-Landlord Law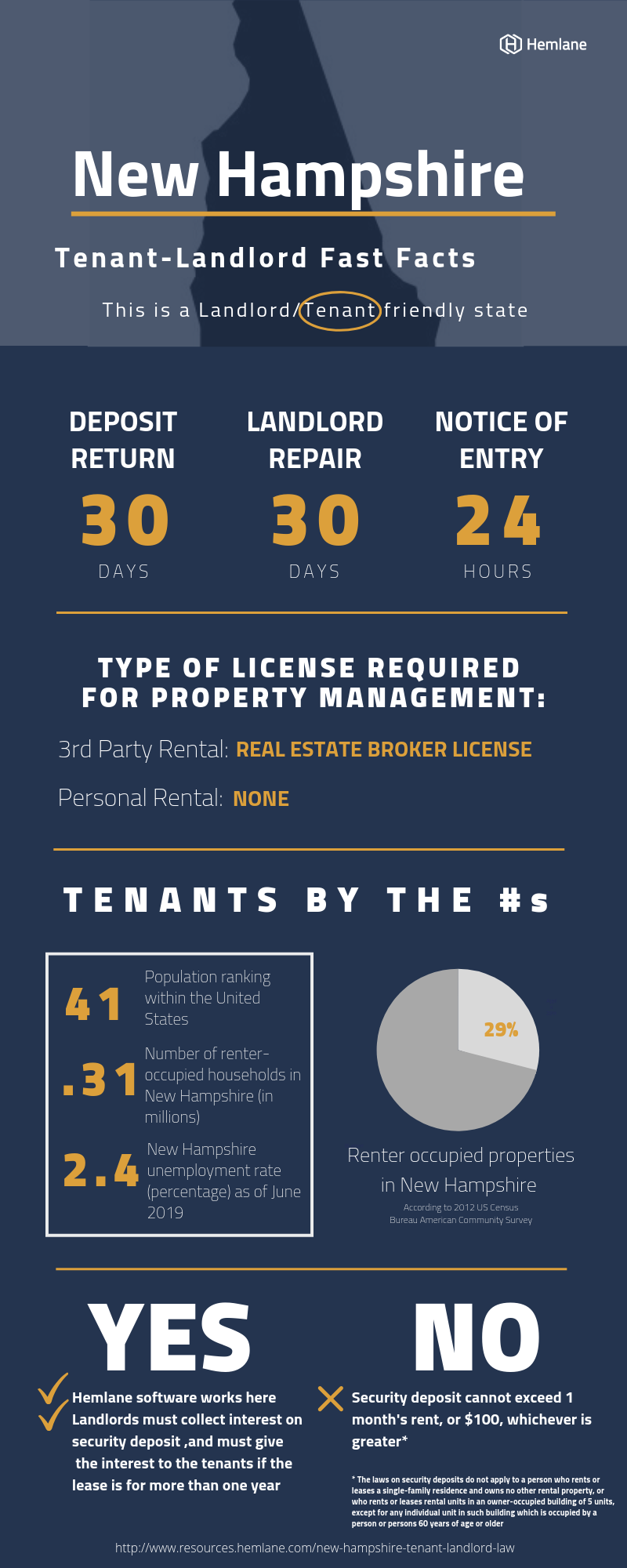 ---
Fair Housing
The Fair Housing Act was created in order to ensure that everyone is treated equally during the housing process. It protects tenants from discrimination when seraching for a rental property. At the federal level the Fair Housing Act protects the following classes…
Race
Color
National Origin
Religion
Sex
Familial Status
Disability
Learn about fair housing at the federal level here /landlord-must-know-fair-housing/
In addition to the federal Fair Housing Act protections, New Hampshire also protects...
Security Deposits
---
Rent and Late Fees
Due date for rent: Must be specified in lease agreement between tenant and landlord.
Notice for rent increase: Rent increase notice must be given at least 30 days prior to the effective date of the increase. (§§ 540:2(IV))
Grace period and late fees: No law, must be specified in lease agreement.
Tenant ability to not pay rent: If the landlord fails to provide essential services, and does not remedy within 14 days of notice. (§§ 540:13(d))
Tenant ability to deduct rent: No law specifying whether or not tenant may make own repair's on dwelling unit and deduct rent.
---
Notices and Entry
---
Disclosures
Landlord duties: No landlord shall willfully violate a tenant's right to quiet enjoyment of his tenancy. (§§ 540-A:2)
Landlord may not lease a unit: If any of the following issues are present: (§§ 48-A:14)

If it is infested with pests
There is defective plumbing
Unsafe wiring
Walls, roof or ceiling have leaks or unsafe holes
Railings in the dwelling unit aren't sound
There is trash in the common areas where landlord has responsibility for trash removal
Water or hot water system is faulty
Gas line leaks
Heating system does not work properly
Plaster is falling from walls and ceilings

Tenant duties: No statute, but the general accepted responsibilities incldue:

Comply with building and housing codes materially affecting health and safety.
Keep the premises clean and safe.
Dispose of garbage and other waste in a manner which is both clean and safe.
Keep all plumbing fixtures clean, as their condition permits.
Electrical, plumbing, sanitary, heating, ventilating, air-conditioning facilities must be used in a reasonable matter.
Not deliberately or negligently destroy, deface, damage, impair or remove any part of the premises or knowingly permit any person to do so.
Tenant must conduct themselves in a manner that will not disturb their neighbor's peaceful enjoyment.

Refusal to renew lease: Landlord cannot terminate or refuse to renew a lease if the tenant has filed an official complaint to any board, agency or authority having powers of inspection, regulation or enforcement. Unless the tenant owe 1 week's worth rent or more. If the court finds that the act of the tenant in making a report was primarily intended to prevent any eviction, increase in rent or any substantial alteration in the terms of the tenancy is instituted by a landlord within 6 months after. For more information on the terms see (§§ 540:13-a (I through III)) and (§§ 540:13-b (I through IV))
Abandonment of tenant's personal property: Landlord shall maintain and take reasonable care of the personal property of a tenant who has vacated the premises, either voluntarily or by eviction, for a period of 7 days after the date upon which such tenant has vacated. After the 7 day limit, the landlord may dispose of the property without notice to the tenant. (§§ 540-A:3(VII))
---
Eviction Laws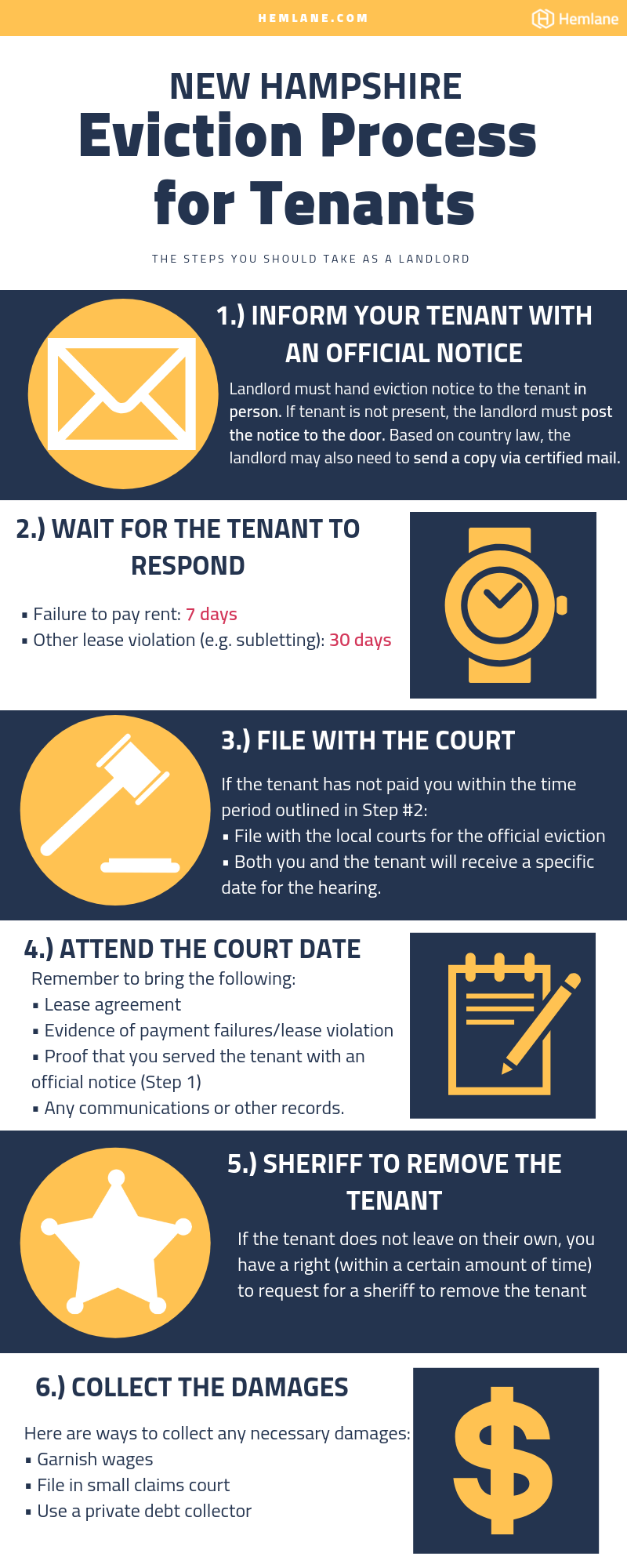 When it is failure to pay rent, the tenant has 7 days to pay you otherwise the eviction notice can be filed with the courts.

When there is another lease violation (e.g. subletting), the tenant has 30 days to resolve the violation from the point that the eviction notice is served. Otherwise the eviction notice will be filed with the courts.

Small claims court limit: The debt or damages, exclusive of interest and costs, cannot exceed $10,000. (§§ 503:1)

Eviction cases: Cases involving eviction are heard in the district court. (§§ 540:13)

Statute of limitations: Sets the maximum time after an event within which legal action may be taken. Written rental agreements, as well as oral rental agreements both have a 3 year limit. (§§ 508:4)
For more information on New Hampshire Landlord Tenant laws please visit their website here.
As the situation with COVID-19 continues to evolve, the moratorium on foreclosures and evictions will continue to impact millions of rental properties across the country. For the most up to date information on this legislation, as well as to see if your city or county has additional directives in place, please contact your local representative.
Finding and Selecting the Best Tenant
For a $2,000 monthly rental: 1. You lose $1,000 if you have your rental on the market for 15 additional days. 2. You lose $1,000+ for evictions. Learn how to quickly find and select a qualified tenant while following the law.