How to Find Distressed Properties in 2023
As foreclosure moratoriums in different parts of the country come to an end, some real estate experts predict that a flood of distressed properties will hit the market. In fact, knowing how to find distressed properties can be a key skill, as with foreclosure filings (defaults, auctions, and bank repossessions) were up 27% in August 2021 month-over-month, and up another 60% year-over-year.
Distressed properties aren't a bad thing, they can offer great value-add and cash-out opportunities to real estate investors. Distressed properties form a large component of many BRRR — buy, rehab, rent, refinance, repeat — investors who find these undervalued properties and fix them up before taking their money out and renting them long-term.
Although the future is always difficult to predict, investors who prepare today can benefit by finding and closing on distressed property opportunities in 2023 and beyond.
What is a Distressed Property?
A distressed property is real estate that is in a state of disrepair, owned by someone who is under financial duress and can't pay the mortgage or taxes, and property that has already been foreclosed on and is owned by the bank.
Types of distressed property
Distressed property generally falls into one of four categories:
Pre-foreclosure or short sale
Property in the foreclosure process
Bank owned property (REO)
Tax lien sale due to unpaid property or income taxes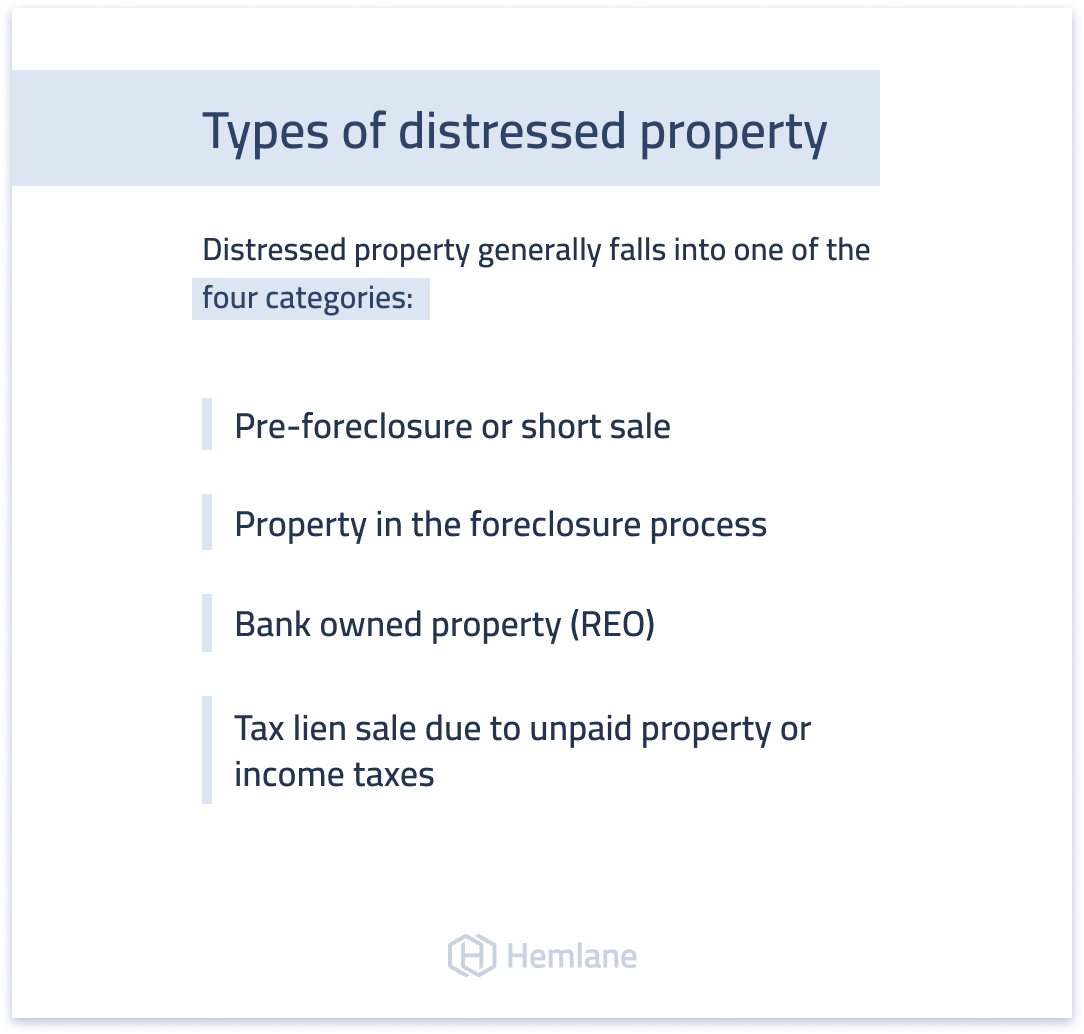 Distressed properties are also known as "underwater properties." A distressed property can be found in every real estate asset class, including single-family and small multifamily buildings, office and retail properties, apartments and mixed-use projects, industrial and special use properties, and even raw and subdivided land.
Are Distressed Properties Good Deals?
Investing in a distressed property can be a good deal provided that you understand the potential risks as well as the possible rewards. Learning how to find distressed properties can significantly enhance your investment strategy.
Pros of buying a distressed property
Opportunity to buy cheap real estate in an expensive area.
Buying distressed property at a below-market price can provide instant equity.
Sellers of distressed properties often do not have the cash to make needed repairs and updates to bring the property "up to code."
Property owners may be extremely motivated to sell and avoid the anguish and embarrassment of foreclosure.
Banks anxious to get REO (real estate owned) property off their books can provide attractive financing options.
Cons of buying a distressed property
Negotiating a short sale with a bank can sometimes take months from start to finish.
Possibility of being outbid if you buy a distressed property at an auction.
May need to move fast, pay in cash, and finance after repairs have been made.
Distressed properties are sold "as is, where is" with few if any warranties and numerous required repairs.
Investors may need to pay encumbrances such as tax liens or an unpaid mortgage before owning a distressed property free and clear.
How to Find Distressed Properties
There's a lot of competition from real estate investors looking for good distressed property deals. Some of the best resources for finding pre-foreclosures, short sales, and bank REO properties include:
Distressed property websites
One of the best ways to locate distressed property is to search online. Top websites that specialize in distressed property listings include Auction.com, Foreclosure.com, HomePath by Fannie Mae, HomeSteps by Freddie Mac Homes, HUDForeclosed.com, and RealtyTrac. These platforms are excellent resources on how to find distressed properties.
Bank REO sites
Another good way to find a distressed property is by going directly to the source. During the last recession of 2008 - 2009 lenders were foreclosing on so many homes that they set up their own REO departments. Bank REO sites from Bank of America and Wells Fargo are still a good way to find distressed property investments today, or simply contact a local credit union or community bank.
Government-owned property
Many real estate investors are (pleasantly) surprised to learn that U.S. government agencies seize property literally every day. Look for government-owned distressed properties for sale from agencies such as the VA, USDA, U.S. Army Corps of Engineers, and the U.S. Marshals Service.
Local tax assessor office
Delinquent property taxes can be an early warning sign that a property is becoming distressed. Many local tax assessor's websites maintain lists of properties with delinquent taxes that you can download and review. This is another method on how to find distressed properties.
To locate the tax assessor for a specific county, search online with "(County name) tax assessor" or use a public records online directory such as NetOnline.com to find tax assessors', treasurers', and county recorders' offices.
Real estate wholesalers
Real estate wholesalers are experts at finding distressed properties, estimating needed repairs and after repair value (ARV), and putting the property under contract. After that, the wholesaler assigns the purchase contract to a distressed property investor in exchange for a small wholesale fee. Understanding how to find distressed properties through wholesalers can be a valuable aspect of your real estate investment approach.
Buying a wholesale property can provide instant equity even after the updating is done. Just be sure to do due diligence to make sure the property is right for your investment strategy.
Real estate agents
Short sale, pre-foreclosure, and even foreclosed property are often listed on the local multiple listing service (MLS). Contact a local real estate agent who has experience working with distressed properties, or search online using sites such as Zillow, Realtor.com, and Homes.com.
Probate and attorneys
Oftentimes people going through bankruptcy or divorce have no other choice but to sell a property to raise money. Many counties post legal notices of pending divorces and bankruptcies, or investors can reach out to active bankruptcy and family law attorneys.
Purchasing a distressed property through probate court is another option, but the process could take months and investors have to negotiate with multiple parties. USProbateLeads and SuccessorsData are two good websites for probate leads, while the legal resource website Avvo maintains a list of probate lawyers by state.
Driving for dollars
Driving around different neighborhoods looking for a distressed property is an old-fashioned but proven way of finding motivated sellers. Investors can do the driving themselves or hire a real estate agent to "bird dog" property in exchange for a finders fee.
Homes and buildings in disrepair, multiple notices on the doors, and lights not turned on at night are signs of neglect indicating that a property may be in distress.
How to Close on a Distressed Property
The closing process for a distressed property varies based on what stage of the foreclosure process the property is in when purchased.
Here's a look at the closing process to expect with short-sale/pre-foreclosures, bank REOs, and real estate purchased at auction:
Pre-foreclosure
Closing on a short-sale and pre-foreclosure work the same way.
Seller provides normal property disclosures and cooperates with inspections.
Buyer can use traditional financing options through a direct lender or mortgage broker.
Lender must approve the purchase price if the offer does not pay for the outstanding mortgage balance.
Bank REO
Real estate owned by the bank does not come with the usual seller disclosures.
Buyers can conduct inspections and due diligence.
Bank REOs may be eligible for financing obtained through the bank selling the distressed property.
Deal points such as price, down payment, closing costs, and closing date are usually negotiable.
Auction
Property is sold as-is, where-is with no disclosures or inspections available.
Buyer responsible for conducting a title search prior to bidding to identify any outstanding encumbrances or liens such as a mortgage or property tax liability.
Auction properties are sold for cash the day of sale.
Lender may pull the property from the auction if the winning bid is too low.
Final thoughts
After the last recession, a tidal wave of distressed properties flooded the market. With the way the housing market has been acting lately, many real estate investors are wondering if the same thing could happen again. The current market cycle is seeing historically high housing prices, which means the acquisition of income-producing properties is more challenging and expensive.
Distressed property is an opportunity to find undervalued and below-market properties that require some TLC. Although the TLC portion of this strategy can be risky, the outcome can be lucrative with the right team and plan.
Ultimately, although there are some risks involved, investors who know where to look for the best distressed property opportunities can earn instant equity, own affordable property in expensive areas, and potentially generate a very attractive ROI.
Finding and Selecting the Best Tenant
For a $2,000 monthly rental: 1. You lose $1,000 if you have your rental on the market for 15 additional days. 2. You lose $1,000+ for evictions. Learn how to quickly find and select a qualified tenant while following the law.