California Tenant-Landlord Law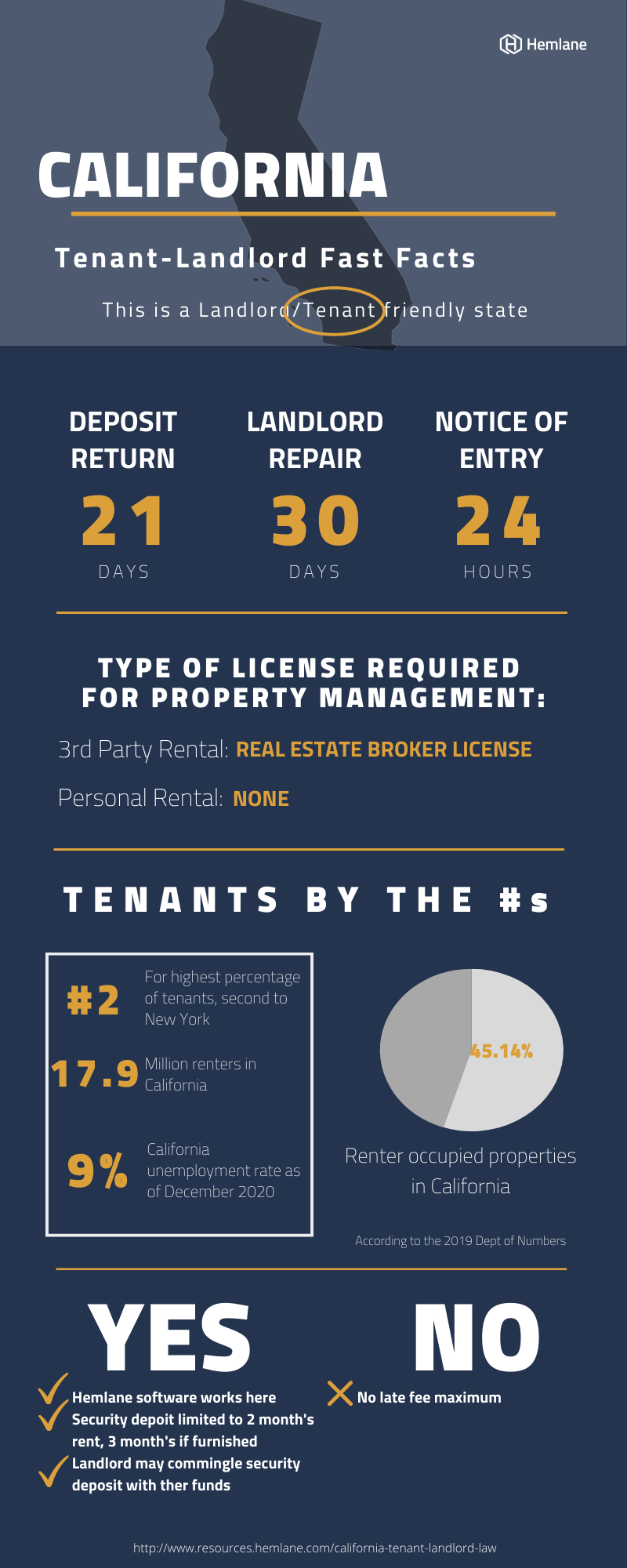 ---
Fair Housing
The Fair Housing Act was created in order to ensure that everyone is treated equally during the housing process. It protects tenants from discrimination when seraching for a rental property. At the federal level the Fair Housing Act protects the following classes:
Race
Color
National Origin
Religion
Sex
Familial Status
Disability
Learn about fair housing at the federal level here.
In addition to federal fair housing laws, the California Fair Employment and Housing Act (FEHA) offers legal protection based on sexual orientation, gender identity and gender expression, marital status, medical condition, ancestry, source of income, age, genetic information, and any arbitrary reason.
Sexual orientation: Anyone who identifies as part of the LGBT community is protected under law.
Gender identity and gender expression: California's gender nondiscrimination act protects transgender and gender non-conforming people.
Marital status: Protects people whether they are single, married, or widowed.
Medical condition: This specifically protects discrimination against genetic characteristics, cancer, or a record or history of cancer.
Ancestry: Your family's ancestral roots may not be considered when looking for housing.
Source of income: Discrimination about whether you are employed or how you make your money can not be considered when a landlord is choosing to lease your a property.
Age: People over the age of 40 are protected.
Genetic information: A landlord cannot discriminate based on information about genetic tests of you or your family members, as well as any information about your family's medical history.
Arbitrary discrimination: A landlord may not discriminate for any other personal reasons.
Does California have any restrictions on limiting the number of tenants in a rental property? California has adopted the "two plus one" as the general guideance for the occupancy limit. This is adopted from Section 503(b) Code for determining the minimum size of a dwelling
This means two people per bedroom plus one additional person. Here is an example of restrictions you can place on the number of tenants based on the bedroom size:
Studio: 2 tenants since there isn't a second room (2 total)
One bedroom: 2 tenants in the bedroom + 1 additional tenant (3 total)
Two bedroom: 4 tenants in the bedrooms + 1 additional tenant (5 total)
Security Deposits
Security deposits prove a tenant's financial stability and provide collateral for the landlord if property damage compensation were to be required.
In California, it is illegal for a security deposit to be more than two months of rent, or three months of rent if the property is furnished. (Civ. Code §§ 1950.5 and 1940.5g)
If the tenant owes unpaid rent, the landlord is legally allowed to withhold the deposit. (handbook) The deposit must be refunded within 21 days of the tenant moving out if no damages or debt has incurred. If the full amount is not returned, the landlord is required to provide a broken-down list, including receipts showing the cost of repairs, explaining how the deposit was used to cover other charges within 21 days. (Civ. Code §§ 1950.5g)
An initial deposit receipt is not required in California, but is recommended in order to show placement, purpose, and agreements regarding the deposit (i.e., whether interest will be paid).

It is also not required in California for landlords to have a separate account for security deposits, but most don't commingle assets due to interest requirements.

In San Francisco, annual interest on the security deposit must be paid on the tenant's annual due date, which is the same day and month the landlord received a tenant's deposit. On March 1, 2019, the rate raised to 2.2%. (Note: the amount of interest required is subject to change March 1, 2020). (SFRB 572).
Annual interest requirements do not apply to tenants that have vacated the premises before one full year. For those that have occupied the property for more than a year but not the entirety of the next interest period, the interest rate should be prorated and calculated according to the required rate on the day of vacancy (Ch. 49 of SF Administrative Code).
---
Rent and Late Fees
---
Notices and Entry
Landlords and tenants are required to give a 30 day early termination of lease notice if they are a part of a month-to-month periodic lease (Civ. Code §§ 1946)

If they are a part of week-to-week lease, the landlord is required to give a 30 day early termination notice, while the tenant is required to give a 7 days notice (handbook)
If ALL tenants have lived there longer than a year, the landlord is required to give 60 days notice prior to early termination. Even if the tenants are on a month-to-month lease, a 30-day notice is not sufficent (handbook)

A landlord must notify a tenant 24 hours in advance for non-emergency situations prior to entering the property (Civ. Code §§ 1954a)
Emergency entry is allowed without notice (Civ. Code §§ 1954b)
A landlord is not allowed entry during a tenant's extended absence (Civ. Code §§ 1954)
The landlord is required to fix any significant repairs that inflict upon the property's habitability. This does not include damages incurred by the tenant, their guests, or pets. Tenants are thus required to take care of all of the damage that results from their neglect or abuse.
Tenants are allowed to withhold a percentage of rent for failure to provide essential services (water, heat, etc.)

If the landlord fails to fix repairs that cause your unit to be unfit, the tenant is allowed to hire a repairperson to fix it (or buy a replacement part and do it yourself), and subtract the cost from the following month's rent. (Civ. Code §§ 1942) Certain conditions apply:

You can't spend more than one month's rent.
You can't use the repair and deduct remedy more than twice in any 12-month period.
You can't have caused the problem, and it can't be something that is your responsibility
---
Disclosures
If the rental unit was constructed prior to 1978, the landlord must disclose the presence of known lead-based prior to signing the lease.
The landlord must provide a copy of the rental agreement or lease to the tenant within 15 days of its execution by the tenant. (Civ. Code §§ 1962(4))
A pest control company must give written notice to the landlord and tenants of rental property regarding pesticides to be used when the company provides an initial treatment as part of an ongoing pest-control service contract. The landlord must give a copy of this notice to every new tenant who will occupy a rental unit that will be serviced under the service contract. (handbook)
If a landlord is aware of a bed-bug infestation, he/she isn't allowed to show, rent, or lease a unit to any prospective tenant. (Civ. Code §§ 1954.602)
Landlords must disclose how utilities will be evenly divided up amongst tenants and if such utilities also service public areas on the property. (Civ. Code §§ 1940.9)
Landlords must change the locks if requested by a domestic violence victim and proof of court order is given. (Civ. Code §§ 1941.5 and 1941.6)
If a prior occupant of the rental unit died in the unit within the last three years, the owner or the owner's agent must disclose this fact to a prospective tenant when the tenant offers to rent or lease the unit. The owner or agent must also disclose the manner of death. (handbook)
---
Eviction Laws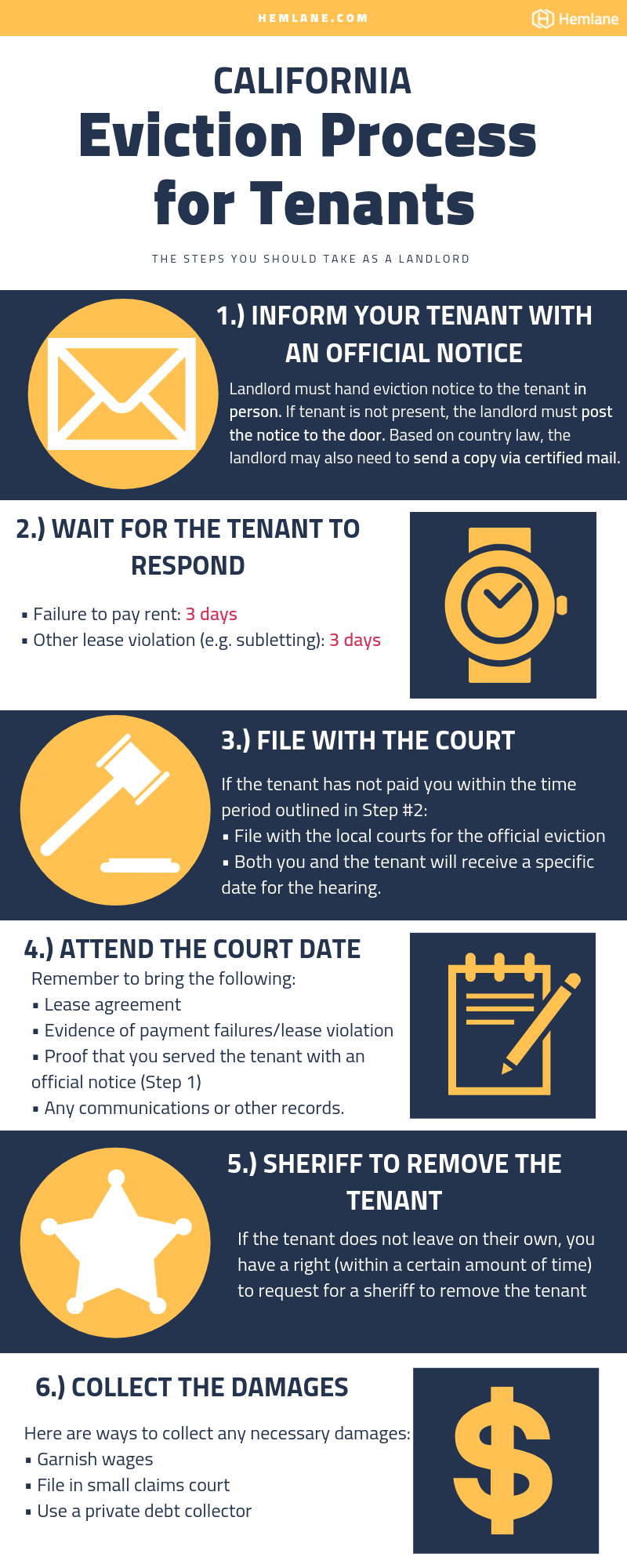 When it is failure to pay rent, the tenant has 3 days to pay you otherwise the eviction notice can be filed with the courts.
When there is another lease violation (e.g. subletting), the tenant has 3 days to resolve the violation from the point that the eviction notice is served. Otherwise the eviction notice will be filed with the courts.
As the situation with COVID-19 continues to evolve, the moratorium on foreclosures and evictions will continue to impact millions of rental properties across the country. For the most up to date information on this legislation, as well as to see if your city or county has additional directives in place, please contact your local representative.
Finding and Selecting the Best Tenant
For a $2,000 monthly rental: 1. You lose $1,000 if you have your rental on the market for 15 additional days. 2. You lose $1,000+ for evictions. Learn how to quickly find and select a qualified tenant while following the law.