Arizona Tenant-Landlord Law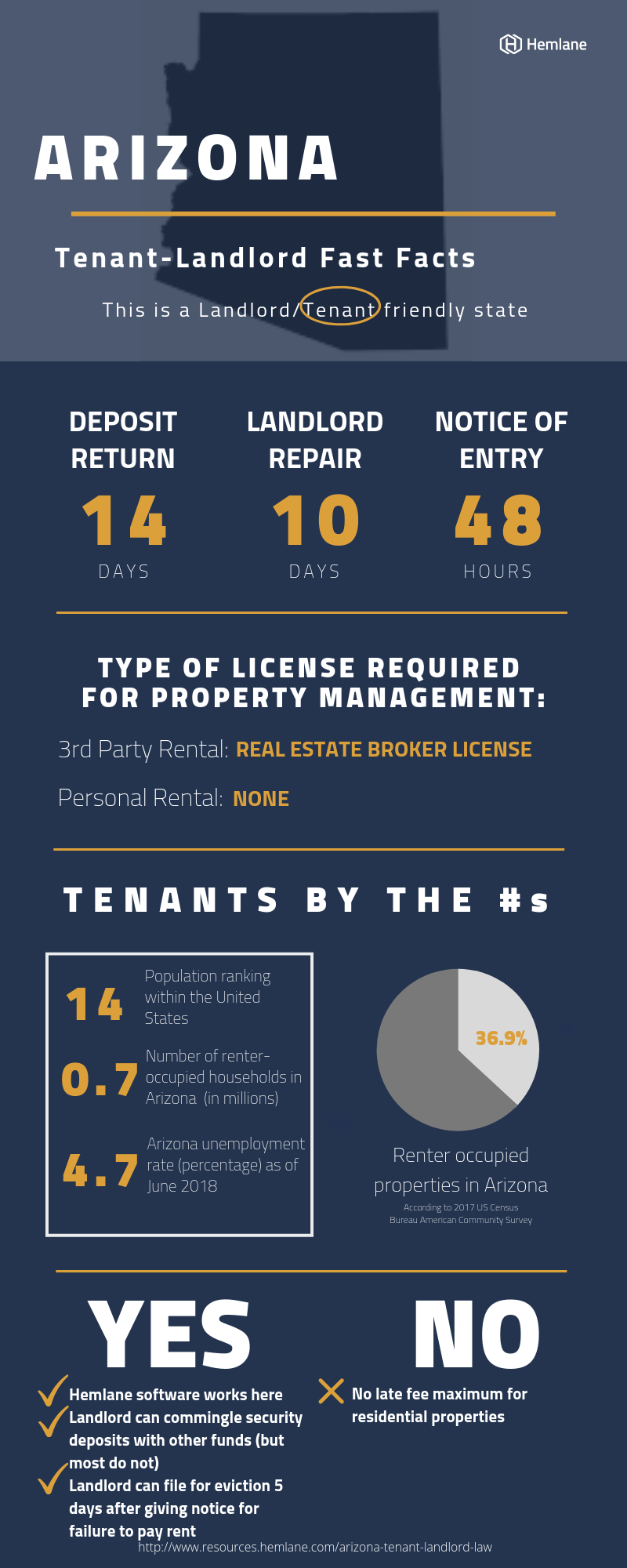 ---
Fair Housing Laws
The Fair Housing Act was created in order to ensure that everyone is treated equally during the housing process. It protects tenants from discrimination when seraching for a rental property. At the federal level the Fair Housing Act protects the following classes:
Race
Color
National Origin
Religion
Sex
Familial Status
Disability
Learn about fair housing at the federal level here.
In addition to federal fair housing laws, local ordinances in some Arizona communities also make it illegal to deny housing based on:
Age
Marital Status
Sexual Orientation
Arizona fair housing laws protect the right of each home seeker to equal opportunity in the purchase, sale, rental, leasing, financing, insuring and advertising of housing.
---
Security Deposit
Security deposit maximum: In Arizona, landlords are not allowed to ask for more than one and a half month's rent as a security deposit (Ariz. Rev. Stat. Ann. §§ 33-1321(A)).

Whether or not the security deposit is refundable must be included in the lease agreement.
Landlords can commingle security deposits with other funds if they choose, but they do not have to, as there is no statute in place.

Returning the security deposit: After termination of lease, landlords are required to return all or part of the security deposit within 14 days of the tenant moving out (Ariz. Rev. Stat. Ann. §§ 33-1321(D)).
---
Rent and Late Fees
Rental agreement: Both the landlord and the tenant should agree on when and where the rent will be due to, as well as how much rent will be. This should all be laid out in the lease agreement (Ariz. Rev. Stat. Ann. §§ 33-1314(C)).
Rent is due: Rent is usually turned in at the beginning of the month. * * Grace period: There is a no statute for a grace period for turning in rent at residential dwelling, though if your landlord has one, it should be laid out in your lease agreement. In manufactured homes, there is a 5 day grace period for late rent. (Ariz. Rev. Stat. Ann. §§ 33-1414(A4)).
Late fees: There is no statute in Arizona for late fees in residential dwellings. However, there can be late fees in manufactured homes. Late fees must not exceed $5 per day (Ariz. Rev. Stat. Ann. §§ 33-1414(C)).
---
Notices and Entry
Notice to terminate month to month lease: For a month-to-month lease, at least 30 days notice must be given if the landlord or tenant chooses to terminate the lease.
Notice to terminate week-to-week lease: For a week to week lease, only 10 days notice needs to be given (Ariz. Rev. Stat. Ann. §§ 33-1375(B)).
Move out inspection: If the tenant wishes, he/she and the landlord can participate in a move out inspection together. However, the landlord must give the tenant a written notification stating that he or she may be present at the inspection (Ariz. Rev. Stat. Ann. §§ 33-1321(C)).
Termination for non-payment: If the landlord chooses to terminate a tenant's lease due to nonpayment of rent, the landlord must give the tenant a 5 day notice to remedy or quit.
Termination for lease-violation: For violation of lease agreement, the landlord must give a 10 day notice to remedy or quit. However, this is only 5 days if the violation affects the tenants health and safety (Ariz. Rev. Stat. Ann. §§ 33-1368(A) and 33-1314).
Termination for falsified records: Landlord must give tenant 10 days notice if terminating lease because tenant falsified records such as criminal records or eviction records (Ariz. Rev. Stat. Ann. §§ 33-1368(A2)).
Lease can be immediately terminated by landlord if any of the following occur:

Tenant is responsible for illegal discharge of a weapon, homicide, prostitution, criminal street gang activity, unlawful manufacturing transferring using selling or storing of a controlled substance, assault, nuisance, or violating the lease in a way that threatens the safety of the landlord, their agent, another tenant, or the property itself (Ariz. Rev. Stat. Ann. §§ 33-1368(A2)).

Non-emergency entry: Landlord must give at least 2 days notice before a non-emergency entry. This could include non-emergency repairs, maintenance, andshowings. For emergencies, landlord does not need to give notice before entering (Ariz. Rev. Stat. Ann. §§ 33-1343).
Repair and deduct: Tenants may repair themselves and deduct from rent, as long as the landlord has been given proper notification. The tenant must then wait 10 days after notifying for the landlord to respond. Withheld rent must not exceed $300 or one and a half month's rent, whichever is larger (Ariz. Rev. Stat. Ann. §§ 33-1363).
---
Disclosures
---
Eviction Laws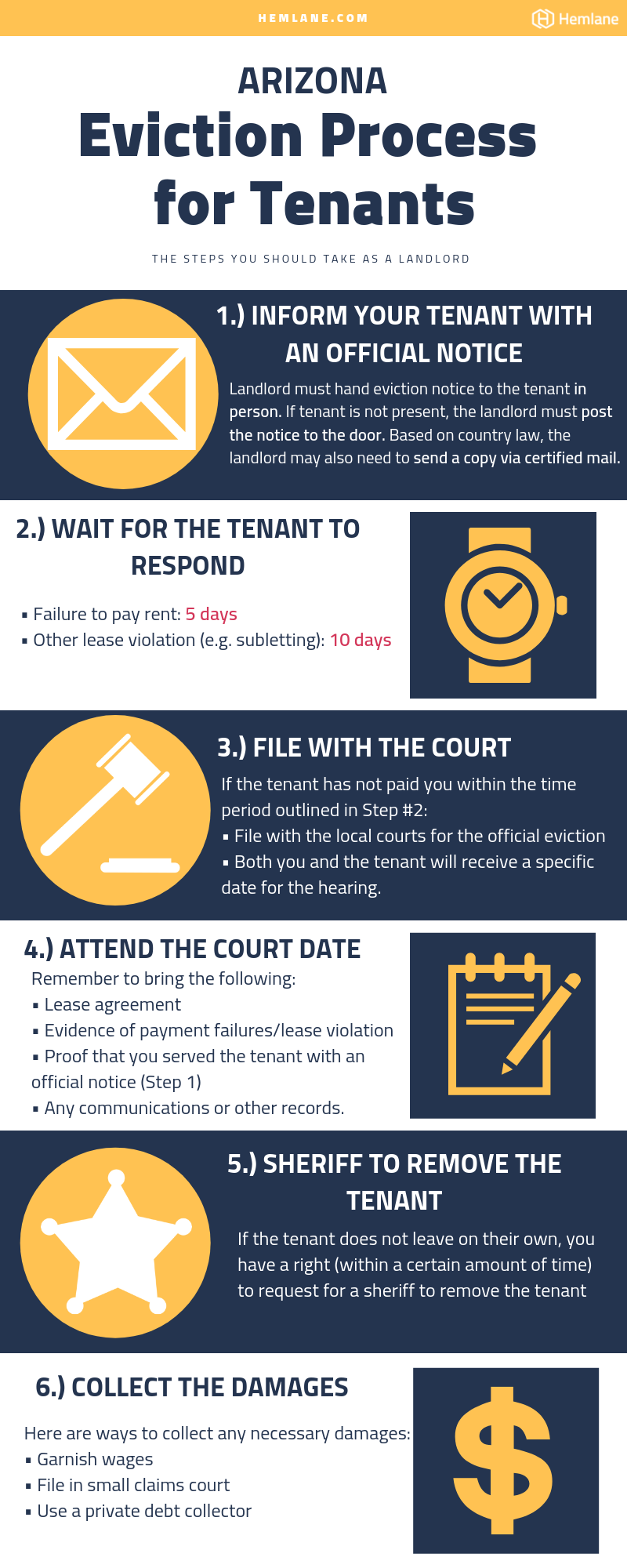 When it is failure to pay rent, the tenant has 5 days to pay you otherwise the eviction notice can be filed with the courts.
When there is another lease violation (e.g. subletting), the tenant has 10 days to resolve the violation from the point that the eviction notice is served. Otherwise the eviction notice will be filed with the courts.
As the situation with COVID-19 continues to evolve, the moratorium on foreclosures and evictions will continue to impact millions of rental properties across the country. For the most up to date information on this legislation, as well as to see if your city or county has additional directives in place, please contact your local representative.
Finding and Selecting the Best Tenant
For a $2,000 monthly rental: 1. You lose $1,000 if you have your rental on the market for 15 additional days. 2. You lose $1,000+ for evictions. Learn how to quickly find and select a qualified tenant while following the law.