Alaska Tenant-Landlord Law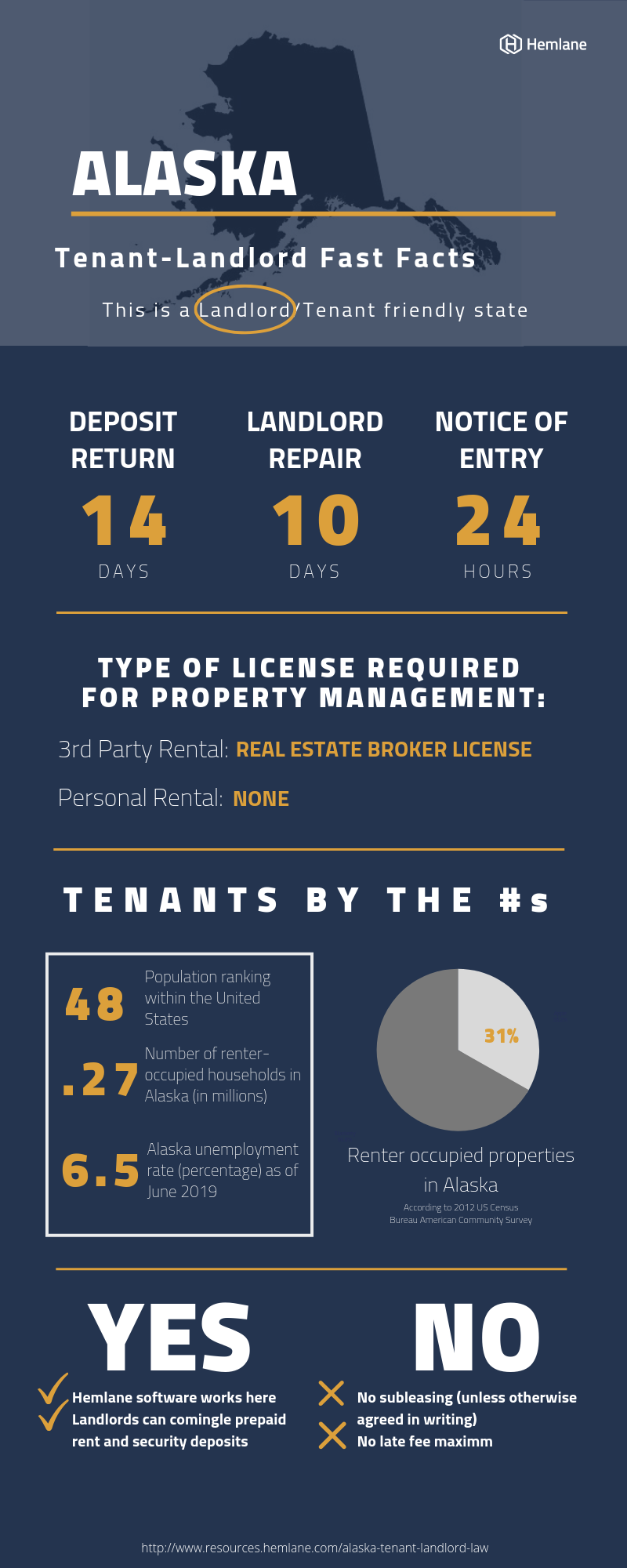 ---
Fair Housing
In addition to federal fair housing laws, Alaska prohibits discrimination on the basis off...
Marital status or changes in marital status (AS 18.80.200)
A landlord not make an inquiry regarding a tenant's status in these areas(AS.20.240)
Additionally, Alaska's civil rights include the opportunity to obtain employment, credit and financing, public accomodations, housing accomodations, and other property without discrimination because of...
Physical or mental disability
Marital status or changes in marital status
Pregnancy
(AS 18.80.210)
Security Deposits
Security deposits prove a tenant's financial stability and provide collateral for the landlord if property damage compensation were to be required.
In Alaska, it is illegal for a security deposit to be more than two months of rent (Civ. Code §§ 34-03-070a).
Upon termination of the tenancy, property or money held by the landlord as a security deposit may be applied to the payment of accrued rent and damages. The landlord must mail an itemized written notice to the tenant's last known address with the accrued rent and damages. If a landlord fails to comply with the above laws, tenants could claim up to twice the amount withheld.
Landlords must promptly deposit security deposits in a trust account in a bank, savings and loan association, or licensed escrow agent & provide the tenant with terms & conditions under which the money may be withheld.
Security deposits cannot be used for another tenant (Civ. Code §§ 34.03.070).
An additional security deposit can be requested for any pet(s) that are not service animals. This deposit:

may not exceed one month's rent
must be accounted for separately from advance rent and security deposit
can only be used for damages related to the pet(s) (Civ. Code §§ 34-03-070h).

Rent and Late Fees
Rent is due monthly on the day that the tenant moved in, unless another arrangement has been agreed upon.
If, for any reason, the landlord fails to supply essential services, the tenant can provide written notice and take actions that may end up costing the landlord more than the monthly rent amount (§§ 34.03).

Notices and Entry
Disclosures
Lead Disclosure Rule: If the rental unit was constructed prior to 1978, the landlord must disclose the presence of known lead-based prior to signing the lease.
Landlord Duties (§§ 34.03.100).
Make all repairs & do whatever is necessary to keep the unit in a habitable condition.
Maintain all electrical, plumbing, sanitary, heating, ventilating, air-conditioning, kitchen, and other facilities and appliances, including elevators, in safe working order.
Provide and maintain waste removal services and bins.
Supply running water and reasonable amounts of hot water and heat at all times, insofar as energy conditions permit.
If requested by the tenant, provide and maintain locks & furnish keys to protect the tenant and their property.
Provide smoke detection devices and carbon monoxide detection devices as required under AS 18.70.095.
Retaliation: The landlord must not terminate or refuse to renew a lease to a tenant who has filed an official complaint to a Government Authority, or has been involved in a tenant's organization.
Tenant Duties:
Keep the premises as clean and safe as the condition of the premises permit.
Dispose all waste in a clean and safe manner.
Keep all plumbing fixtures as clean as their condition permits.
Use all facilities and appliances in a reasonable manner.
Tenants shall not purposefully or negligently damage or remove a part of the premises.
Shall not unreasonably disturb a neighbor's peaceful enjoyment.
Maintain smoke and carbon monoxide detection devices ( AS 18.70.095).
May not, except in an emergency when the landlord cannot be contacted after reasonable effort to do so, change the locks without first securing the written agreement of the landlord.

The tenant must provide the landlord with a written notice within 5 days and a set of keys to all doors for which locks have been changed.

May not engage in conduct that results in a fee under a municipal ordinance (AS 29.35.125).
May not allow the number of individuals occupying the premises to exceed the number allowed by applicable law (§§ 34.03.120).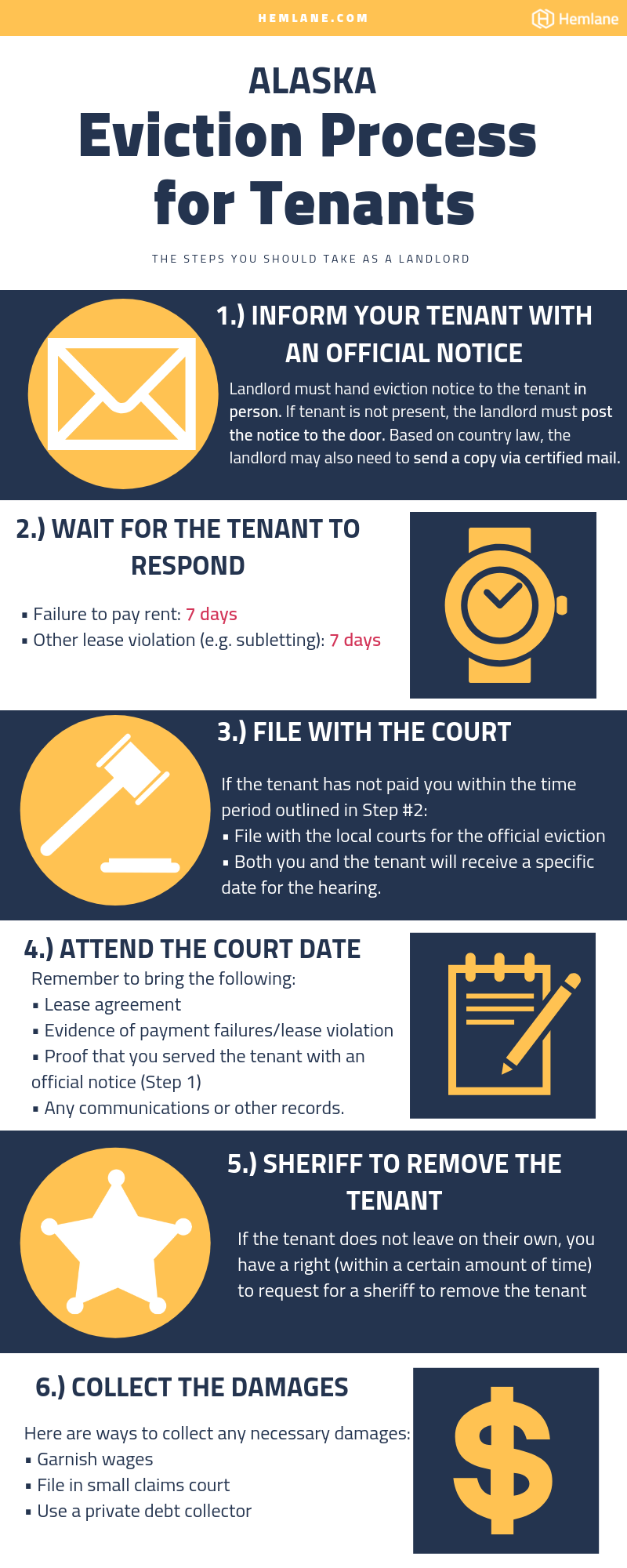 When it is failure to pay rent, the tenant has 7 days to pay you otherwise the eviction notice can be filed with the courts.
When there is another lease violation (e.g. subletting), the notice you provide will depend on the offence. This article will provide more insight on Alaska's eviction laws.
---
Early Termination of Lease
When there is not a lease violation, but the landlord or tenant wants to break the lease, the following regulations apply:
Early termination by landlord
If the landlord wishes to terminate the lease early, they have to give a 30 day notice.
Early termination by tenant
If the tenant wishes to terminate the lease early, they have to give a 30 day notice.
For more information on Alaska Landlord Tenant laws (Alaska Statutes Secs. 09.45.090, 09.45.120, 34.03.220, 34.03.290) please visit their website here.
As the situation with COVID-19 continues to evolve, the moratorium on foreclosures and evictions will continue to impact millions of rental properties across the country. For the most up to date information on this legislation, as well as to see if your city or county has additional directives in place, please contact your local representative.
Finding and Selecting the Best Tenant
For a $2,000 monthly rental: 1. You lose $1,000 if you have your rental on the market for 15 additional days. 2. You lose $1,000+ for evictions. Learn how to quickly find and select a qualified tenant while following the law.